Giancarlo Perlas
September 12, 2014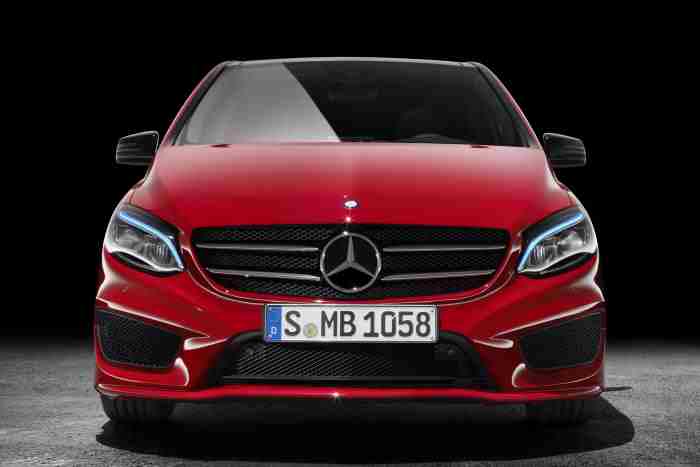 The month of September certainly centered on the introduction of the Mercedes-AMG GT. The excitement was such that other three-pointed star vehicles have been overshadowed for now. One of them is the Mercedes-Benz B-Class, which only went on sale today. The Mercedes-Benz B-Class will not hit showrooms until November but the German automaker already offers it for ordering starting at £22,575.
The car just underwent a mid-production makeover in terms of efficiency. Wider selection of engines with varying performances also came with the development of the range. Then, the vehicle of adopted several technological upgrades. The B200 petrol variant will be the new addition to the segment, and the B-Class Electric Drive plug-in is scheduled for next year.
Unlike the B-Class CDI diesel model, the B200 is offered only as a front-wheel drive. Under its hood is a very compact 1.6-liter four-cylinder engine with a decent output of 154 bhp and 250 Nm of torque. Power is distributed through the standard six-speed manual gearbox, but buyers can opt for the automatic version of it. All these enable the vehicle to sprint from zero to 62 mph in just a span of 8.4 seconds. The top speed, on the other hand, is at 136 mph.
The icing in the facelifted Mercedes-Benz B-Class is its improved fuel-efficiency and low carbon dioxide emission. No figures are available yet for this one except for its European version. According to Auto Express, the manual model only uses one gallon in 50.4 miles while emission is rated at 130 grams per kilometer. The optional seven-speed automatic is expected to have around 52.3 mpg efficiency and 125 g/km CO2 production.
In the cabin, the Mercedes-Benz B-Class gets the latest "Mercedes connect me" system plus enhanced safety features. Among the technological upgrades are the Special Remote Online equipment, Collision Prevention Assist Plus, and Attention Assist.
Not much changed in the exterior of the car except its bumpers, intakes, and its integrated LED daytime running lights.