Giancarlo Perlas
September 12, 2014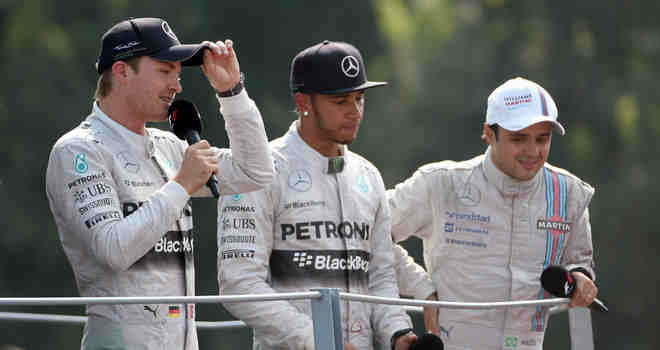 Lewis Hamilton admitted that he found the booing of his teammate Nico Rosberg very awkward as they stood on the Formula One podium following the Italian Grand Prix, according to Sky Sports.
Mercedes AMG Petronas maintained its momentum leading to the world championship as it displayed another one-two victory in Monza. Hamilton, after trailing his partner behind in the majority of his races plus several unfortunate retirements, once again gained his footing by finishing first. Fans received the Briton with a warm cheer as he climbed the podium, but his teammate and rival in the drivers' rankings did not get the same treatment. Fans audibly booed the second placer in the podium.
It seemed like the fans haven't forgotten yet of how Rosberg punted Hamilton into retirement in the prior race. The German is also currently facing another heat for allegedly voluntarily handing the victory to Hamilton in Italy. The involvement of Sir Jackie Stewart with the critics did not make the situation any better for the son of Keke too.
Despite the on-and-off relationship of the two Mercedes drivers, Hamilton expressed his dismay in the actions of the audience toward Rosberg. He said that he found the situation very awkward and reminded everyone to be nice. Toto Wolff backed the statement of Hamilton later saying that the aim of the Formula One as a sport is to unite so there shouldn't be any booing.
Knowing he can't please everyone, Rosberg commented through an interview with the source, "It's obviously not nice but what can I say? I hope that with time they forgive and forget. That would be great. I have apologised, I can't really do anything more than that."
It should be noted that Sebastian Vettel has been the regular target of booing as well during his run in 2013.