Peter Parcon
September 7, 2014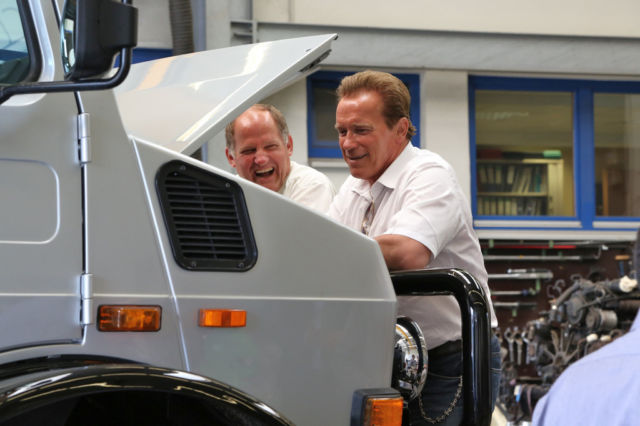 The 1977 Mercedes-Benz Unimog U1300 of actor Arnold Schwarzenegger was put up for sale recently in Germany, according to a report from gtspirit.com.
The unique, four-wheel drive multipurpose truck is road legal in Germany and the United States. The German-made 7.5 ton truck was custom-built on a 1977 chassis for the Austrian-born actor. It features a 6.4-liter diesel engine that is Euro 3 compliant and is capable of producing 320 HP of power. However, its top speed is limited to around 100 km/h due to its massive weight and less than aerodynamic design. It sits on a set of 22-inch wheels clad in 445/65 tires from Michelin. The wheelbase of the enormous vehicle is 2810 millimeters.
The Unimog U1300 is just one of the peculiar vehicles in the garage of the former governor of California, who also owns a military tank. It was manufactured in 2012 for the actor.
The 1977 Mercedes-Benz Unimog U1300 is reportedly in good working condition and has been driven for 13,048 miles or 21,000 kilometers. Aside from its famous owner, the Unimog U1300 has a number of special features from Mercedes-Benz. Among the special features integrated on the vehicle are its rearview paring camera, air suspension, trailer brake system, roll bar, bull bar, and electric winch.
The Unimog U1300 of the actor also features Hella Luminator lights, quick-release hand brake, and flatbed with an integrated bench with seatbelts for three people. An added bonus for fans of the actor is his signature, which can be found on the dashboard along the center air vents.
The actor spent $250,000 to have the Unimog U1300 custom-built for him. The massive vehicle has a price tag of $275,000. The signature of the actor justifies the additional $25,000 on the price tag of the vehicle. Anyone interested in the custom-built 1977 Mercedes-Benz Unimog U1300 of the actor can purchase it through MEREX.