Giancarlo Perlas
August 8, 2014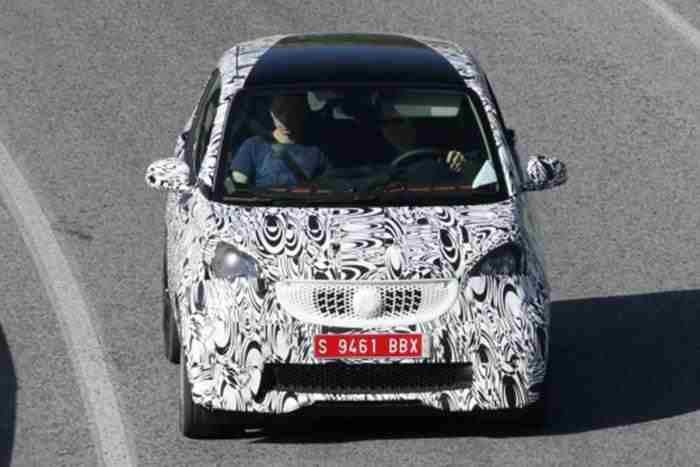 Spy photos of the 2015 ForTwo with Brabus treatment have been circulating online. Despite the heavy camouflage of the smart car in the pictures, the images hinted several modifications in the design of the vehicle. A rendering of the vehicle was also made by RM Design.
Brabus Enhancements Available for the New ForTwo
An obvious add-on to the upcoming ForTwo is the new bodykit, which include bespoke front grille, lower tires, and twin exhausts. Then, it is assumed that it will have a more powerful output. According to Auto Express, the power of the auto is cranked from its usual 89 bhp to 110 bhp. Another significant development in the 2015 ForTwo Brabus is the addition of the seven-speed dual-clutch paddleshift gearbox, similar to the one found in the Mercedes A-Class. Moreover, WorldCarFans stated the car will carry an updated steering system, sport-tuned suspension, and improved brakes. It will also be available in convertible and EV variants, said the report. There were questions whether the ForFour will get Brabus upgrades too. Auto Express revealed Daimler's Smart division confirmed that is planning to go on that direction. However, no time frame has been revealed yet for the Brabus-tuned ForFour.
Spy Photos and Rendering of the 2015 ForTwo Brabus
Check out the images below for the spy photos of the 2015 ForTwo Brabus, including a rendering of the car from RM Design:
2015 ForTwo Price and Release
Based on a recent article from InAutoNews, the new ForTwo will be sold with a starting price of 10,895 euros. Deliveries of the car will commence on November 22 this year in Germany. We are not sure yet about the vehicle's delivery date in other territories, and no details were provided yet about the pricing and launching of its Brabus model. However, we will keep readers updated as soon as they are made available.