Ryan Joseph Ramos
August 17, 2014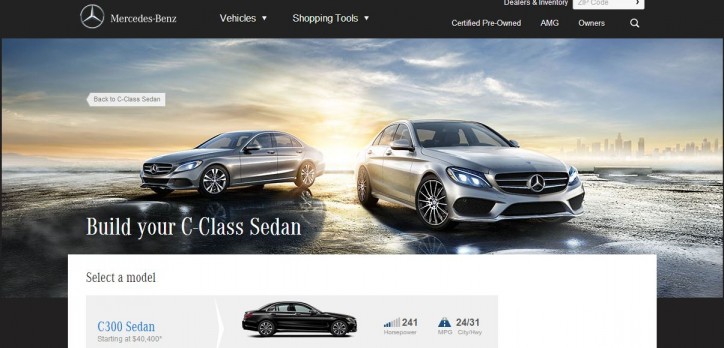 Want to tinker around with your very own US-spec Mercedes-Benz C-Class? Now that the automaker has launched its online configurator for the 2015 model year, you can do just that.
You can head over to the site at this link and you can start customizing your own 2015 C-Class, just the way you want it. Options are currently limited though, as you can start off with a base of either the 241-horsepower C300 starting at $40,400 or the 329-horsepower C400, which starts at $48,590.
Those base prices do not include the optional stuff you will be adding later on through the  configurator, as well as taxes, title, registration fees, transport charge, and prep fee from the dealer.
Once you select your base model, you will be taken to another page where you can pick out options and packages for the exterior, interior, entertainment system, performance and safety features, and even service and care centered around the mbrace platform.
After you're done picking out the add-ons and options you'd want your new and currently hypothetical 2015 C-Class to have, you are taken to a Summary page that contains all the choices you've made and a summary of the cost. You can then print this out and mull it over some more. You can also look for a preferred dealer from which to take delivery of your brand-spanking-new C-Class.
That said, why don't you head on over to the C-Class online configurator to start building your dream machine right now? Be warned, though: it can be a massive time-sink. Have fun!