Peter Parcon
July 12, 2014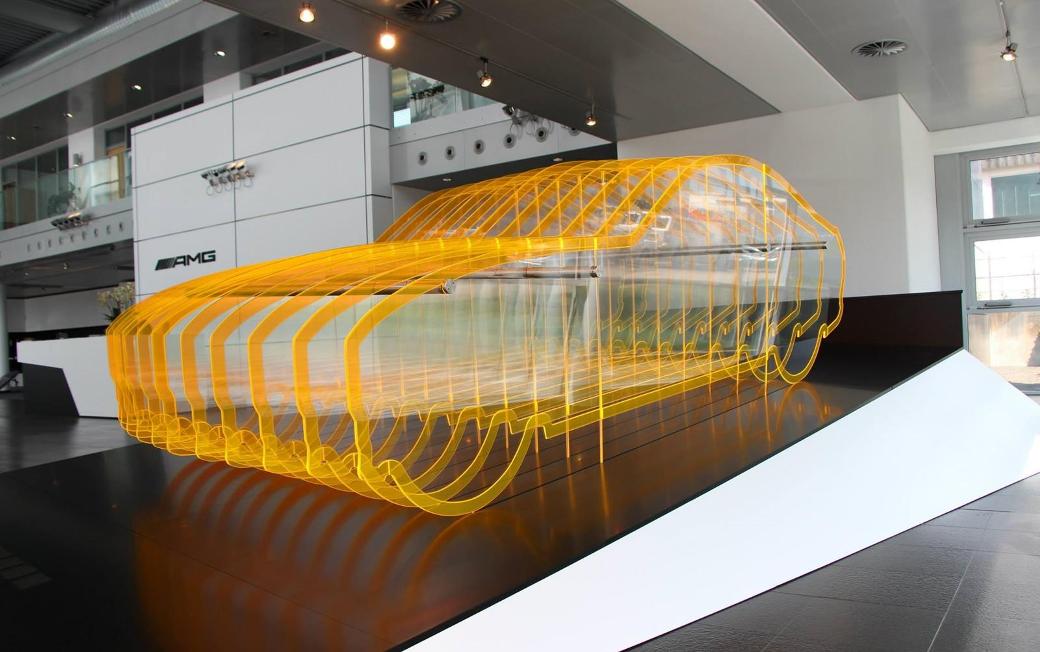 Although the Mercedes-Benz AMG GT is expected to be unveiled by October, industry watchers are already eager to feast their eyes on the latest luxury supercar of the German vehicle manufacturer. It appears that Mercedes-Benz is aiming to increase this excitement as they showcased a teaser model of the supercar, according to a recent worldcarfans.com report.
The full-size teaser model is displayed at the Affalterbach showroom of AMG. It will be necessary to use one's imagination and creativity to see the car depicted on the teaser model, which shows the shape of the upcoming vehicle.
The Mercedes-Benz AMG GT is expected to be unveiled during the Paris Motor Show in October. Sales of the supercar are expected to start in March 2015, with the first available models will be the GT-S featuring a 4.0-liter twin-turbo V8 engine. This particular model will offer a power output of 503 HP and 479 lb-ft of torque.
A lower variant of the GT is also expected to be offered using the same engine, with a lower power output. The GT-S will also feature 19-inch alloy wheels in front and 20-inch alloy wheels at the back as well as an E-differential. In comparison, the standard model will be limited to 19-inch alloy wheels as well as a limited-slip differential.
The Mercedes-Benz AMG GT is capable of accelerating from 0 to 62 mph within 3.9 seconds, according to AMG chief Tobias Moers. The AMG GT is not considered as the replacement of the Mercedes-Benz SLS AMG since it does not feature the gullwings of the SLS AMG and it is considered cheaper and smaller than its predecessor.
The interior cabin of the luxury vehicle was already revealed by AMG and Mercedes-Benz along with a soundtrack of its engine. Gorden Wagener, design chief of Mercedes-Benz, described the Mercedes-Benz AMG GT as the most beautiful vehicle produced by the luxury vehicle manufacturer.