Giancarlo Perlas
July 18, 2014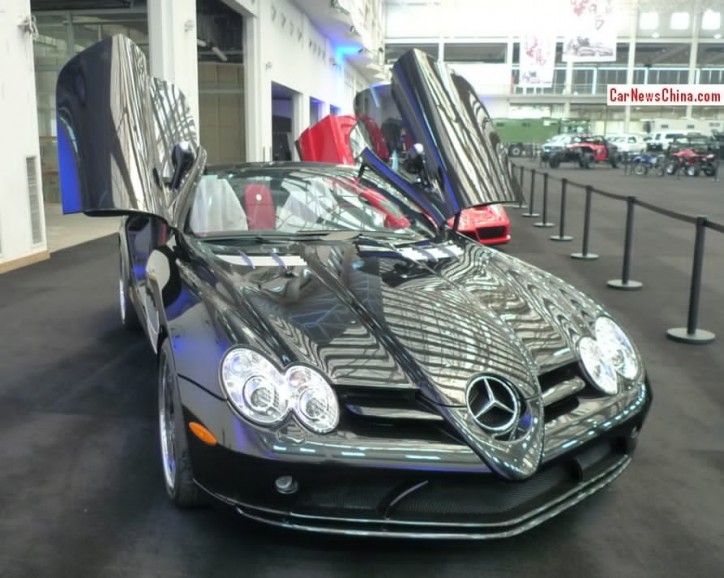 The Mercedes SLR McLaren is supposed to be hard to come by in China because the car was never officially exported to the region. However, a lot of folks in China with serious connections in the gray market and a lot of money to burn have found their hands on these very rare babies.
One of them was spotted in the recent Beijing Crab Island International Auto Show. This was the same show that provided us a look at the monstrous Mercedes Unimog U500 camper.
The object of interest in the event was a Mercedes SLR McLaren roadster painted in piano black, which gave its armor a very glossy look. Moreover, the car was fitted with super sports tires with chrome rims and black alloys. The combination of the vehicle's exterior finish and wheel customization further highlighted its luxury sports car look.
Inside the cabin of the luxury sports car was a combination of red and black leather, which has been a popular interior design of Mercedes sports cars. The interior design of the auto gave it a really aggressive look.
According to Car News China, this particular model came from the US. Also, the source stated that no modifications were made to the performance of the Mercedes SLR McLaren. So, the car still carried a 5.4 supercharged V8 engine capable of giving off up to 617 hp and 780 Nm of torque. Overall, the engine output enable the car to reach an electronically-limited top speed of 334 kmph, plus its sprint can go from zero to 100 kmph in just a span of 3.6 seconds.