Ryan Joseph Ramos
July 5, 2014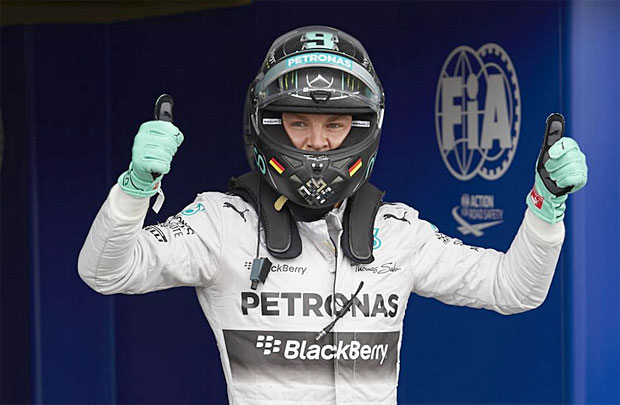 Nico Rosberg gets right back in the saddle with his fourth pole position of the season, as the Mercedes AMG Petronas driver opens the 2014 British Grand Prix at the head of the pack. Teammate Lewis Hamilton settles for P6 on the grid after a trickier-than-usual qualifying session that had rain and rapidly changing conditions out on the track.
"It's a great opportunity to start the race from pole and I'll give it everything to take the win tomorrow," said Rosberg, who is atop the drivers' standings, with 165 championship points ahead of Hamilton, who has 136.
Hamilton acknowledged that it was his decision to pull out of his lap in Q3, and that it was a mistake. That opened the way for Rosberg, but that meant he was stuck at his time and hence the P6 result. He said he needed to have the same kind of start that he did back in Austria, where Mercedes had another one-two finish, in order to improve his standing in the race.
Both Paddy Lowe and Toto Wolff believe that, despite the mixed results here in qualifying, the cars are good enough in terms of pace in order to still challenge for the win at the race. We'll see, but Mercedes will see a strong challenge from the other guys who qualified at the front of the grid.
Red Bull's Sebastian Vettel joins Rosberg at the front row, McLaren's Jenson Button is P3, followed by Force India's Nico Hulkenberg (P4) and McLaren's Kevin Magnussen (P5). Trailing Hamilton are Force India's Sergio Perez (P7), Red Bull's Daniel Ricciardo (P8), and the two Toro Rossos – Daniil Kvyat in P9 and Jean-Éric Vergne in P10.
Notably at the back of the grid are the Williams and Ferrari cars, who missed opportunities to run on the dry compound tires when conditions cleared up and ended up running them in wet conditions during Q1. As a result, Williams' Valtteri Bottas and Felipe Massa are in P16 and P17, respectively, while Ferrari's Fernando Alonso and Kimi Raikkonen are P18 and P19, respectively.
They are just ahead of the excluded Pastor Maldonado of Lotus (not enough fuel to return to the pits) and the Caterhams (failed to set lap times within 107% of the fastest Q1 time, set by Rosberg).