Ryan Joseph Ramos
July 20, 2014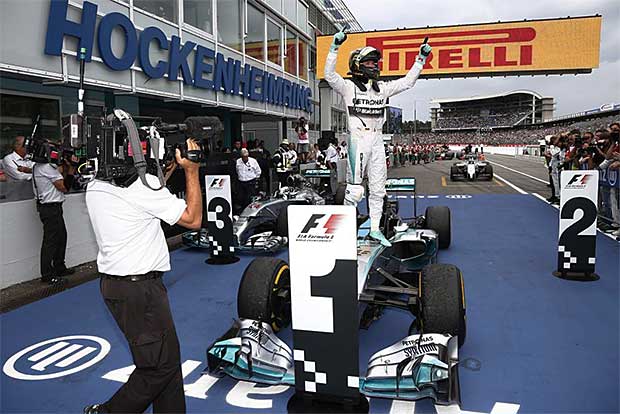 Nico Rosberg was true to form Sunday, as the Mercedes AMG Petronas F1 driver secured his first-ever home race win and his fourth overall this season by taking the victory at the Hockenheimring. Teammate Lewis Hamilton was able to climb up all the way from P20 to start the race and vaulted up to a stellar and well-deserved podium finish.
Sandwiched between the two Mercedes drivers was the Williams of Valtteri Bottas, who took his third-straight podium finish and his second-straight number-two finish following a stellar British Grand Prix and his impressive P3 in Austria.
Despite the very impressive race driven by Hamilton, the Brit was seemingly not impressed. After all, anything short of a win is a missed goal for such a competitor. After all, he was able to cut Rosberg's lead to four after the race in Silverstone, and now Rosberg is up by 14 again. Things should only heat up between the two teammates from here on.
We reported that Hamilton qualified would start at P15, but a gearbox change meant he would be docked another five spots on the grid. Alas, he started near the back at P20, but nevertheless managed to climb up fast in the initial laps. By Lap 2, he was at P17. By the next lap, he was at P14. He's into the top 10 in lap 10, and P5 by lap 14. By lap 16, he's into the top three after a spectacular overtake on both Sebastian Vettel and Fernando Alonso.
Action and disaster mingled right from the get-go of the race, with Kevin Magnussen flipping Felipe Massa over and effectively ending the Brazilian's race. Very unlucky. Magnussen would go on to finish ninth, pending any penalties.
It's the Hungarian Grand Prix next weekend, so be sure to check back with us as we bring you the low-down on that race as well.