Giancarlo Perlas
July 17, 2014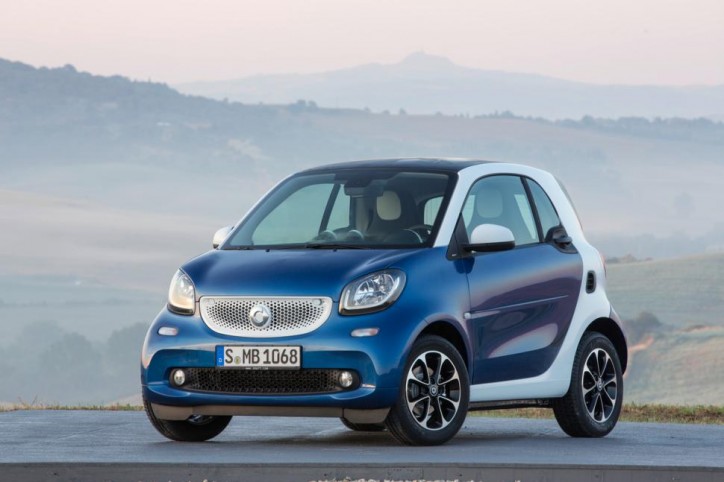 The 2016 Smart Fortwo and Forfour finally make their official public appearance. The two electric vehicles appeared to have significant improvements in terms of design with a more stylish hood and new LED headlights.
The two color scheme of the cars and safety cell highlights were retained, but with more than 40 color combinations to choose from for its exterior, including new color selections. The interior layout was also the same with its previous generation, but new tech and more premium features were added to give customers a good run for their money.
The dimensions of the two cars were the same with their previous incarnations too. However, the turning radius of the Fortwo has been reduced to 22.8-feet from curb to curb making it ideal for tight maneuvering when driving and parking. This feature is one of the major selling points of the Fortwo
Performance enhancements are introduced as well. A new trio of three-cylinder engines producing more or less 60, 71 and 90 hp can be found under the rear engine of the Smart Fortwo and Forfour. Customers can choose between a five-speed manual or "twinamic" dual-clutch transmission for their autos.
Safety features were not left out for the new EVs. Frontal collision tests revealed that the two mini cars, particularly the Smart ForTwo, fared much better than the common small cars found in the market, thanks to their lightweight but ultra-resilient "tridion" cells. It should be noted that during the test, the Fortwo was placed on a direct collision course with the Mercedes-Benz C-Class and S-Class.
There are rumors that Daimler is planning to launch the Fortwo on a global scale, in the major cities of the world. It is speculated that the Fortwo might make it in the US in the middle or latter part of 2015, but no official confirmation has been made on the matter yet.