Giancarlo Perlas
July 17, 2014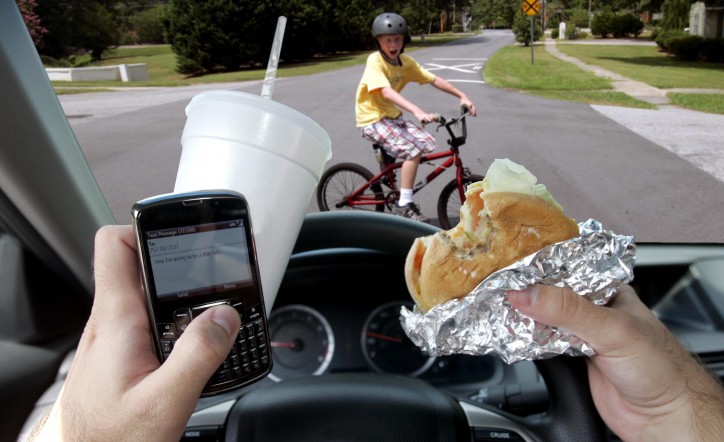 Distracted driving is one of the key problems plaguing the roads over the past years. The key factor causing the problem is using a cellphone while operating the steering wheel at the same time.
These gadgets have become the usual culprits of accidents, which have resulted in scenarios like injury, loss of life, and property damage to name a few. Recently, the website of AA Accident Attorneys released its latest infographics detailing the alarming statistics concerning the subject.
The source started out by showing the statistics of cellphone users, wherein it was revealed that an estimated 90 percent of American adults use cellphones on over 300 million wireless service subscriptions. From those subscribers, approximately 81 percent of them use it for texting, 60 percent utilize it for Internet browsing, 52 percent access their emails with it, 50 percent download apps with their device,  49 percent use it for navigation, and 48 percent listen to music with it.
Citing a U.S. National Highway Traffic and Safety Administration data released in January this year, 28 percent of all cellphone calls were made while driving, and 10.6 percent of the total driving time of motorists involved talking in cellphones. The rate of the dreaded habit texting while driving also made up 10 percent of the total of cellphone messages sent.
The infographics went on to state that around 660,000 drivers hold their cellphones while cruising the road at daylight. On the other hand, 100,000 of them are accessing SMS while driving.
Of all the motorists aged between 18 to 64 years old, 69 percent are operating their phones behind the steering wheel. A survey conducted with respondents within the same age bracket showed that individuals aged 18 to 24 have the highest tendency to send text messages or emails when driving.
Mercedes-Benz is one of few car manufacturers that has has developed numerous collision prevention systems. The collision prevention assist plus outputs a visual and acoustic warning to a distracted driver of an upcoming impact.
So, what is the significance of these revelations? According to the infographics, distracted drivers risk encountering accidents three times on the road. Studies revealed as well that nine people are killed daily and 1,153 are injured everyday due to this issue. In 2012, there was a recorded fatality of 3,328 and 421,000 injuries attributed from distracted driving.
The lesson here folks is that everyone should avoid using phones when on the steering wheel as this may increase the likelihood of accidents. Accidents that may result to lawsuits, fines and even imprisonment depending on the gravity of the situation and your failure to exercise prudence in operating your vehicle on the road.