Ryan Joseph Ramos
July 6, 2014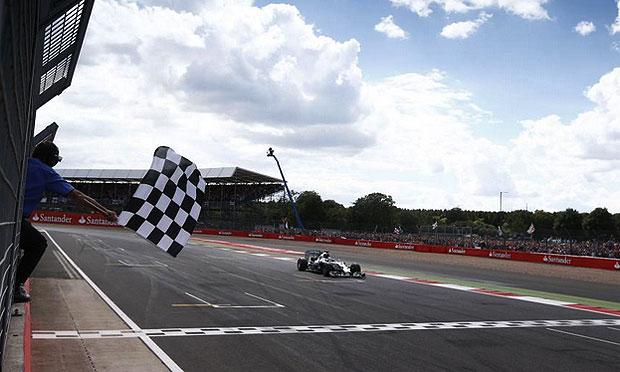 Lewis Hamilton won the 2014 British Grand Prix, giving the Mercedes AMG Petronas F1 team its eighth victory in nine races so far this season. It was also Hamilton's fifth win this year and, coupled with the retirement in the race of teammate Nico Rosberg, allowed the Brit to get that much closer to the drivers' standings lead.
Despite retiring on lap 29 and thus scoring no championship points, Rosberg is still ahead of the drivers' standings with an idle 165 points. However, Hamilton only trails by a mere four points now.
Gearbox problems prevented Rosberg from completing more than half the duration of the British GP. It also equalises the number of retirements for the Mercedes drivers; Hamilton was forced to stop due to engine trouble during the opening race in Australia, where Rosberg won.
According to Rosberg, the gearbox started becoming real problematic around lap 20 and just got worse after that.
"It's a shame for the race in a way, as it could have been a great battle against Lewis, but congratulations to him for the win." Not the slightest hint of bitterness there, Nico. We all know he hates to lose against his teammate.
Hamilton was joined on the podium by Williams' Valtteri Bottas, who started all the way from P16 on the starting grid after qualifying mishaps, and Red Bull's Daniel Ricciardo, in second and third place, respectively. Hamilton's fellow driver Jenson Button just missed a podium finish by 0.8 seconds.
"We've got the greatest fans here," said Hamilton of his hometown crowd. "It's you guys who spurred me on."
The win also gives Hamilton No. 27 for his career, putting him in a tie with Sir Jackie Stewart. The victory also comes two days after the 60th year anniversary of Mercedes-Benz's maiden Formula One win, at the 1954 French Grand Prix.
A crash marred the very opening of the race, when the Ferrari driven by Kimi Raikkonen lost control of his car when he tried to rejoin the field after going wide, eventually spinning and hitting the barrier. Williams' Felipe Massa hit him, and both retired from the race without completing a single lap.
Mercedes is still on top of the constuctors' championship race at 326 points. Red Bull is a distant second with 168 points. Ferrari is in third with 106 points, but Williams is threatening to move past the Prancing Horse at 103 points following Bottas' good points haul in Silverstone.
Now the season shifts to Germany for the next race, a home race for Mercedes AMG Petronas and a home race for Rosberg. He's going to want to win that one, not only for the crowd, but also to pay back Hamilton for this one. It's certainly going to be an interesting battle, so stay tuned!