Giancarlo Perlas
July 11, 2014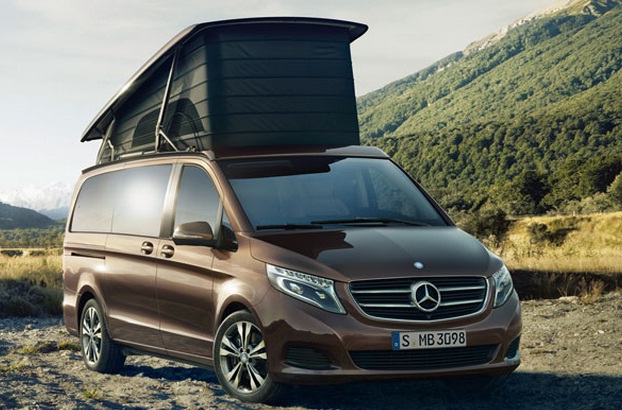 Mercedes-Benz just revealed its Marco Polo van. According to UK's Car magazine, the vehicle is the three-pointed star brand's response to Volkswagen's California camper van. Despite a few similarities in the concept and frame, you just got to hand it over to Mercedes because it was able to top its German rival by putting its signature luxury touch to its own camper van.
As its name implies, the Mercedes Marco Polo van is designed for the adventurous types or people who love to hit the road for an outdoor trip. The vehicle offers a cabin measuring around 2050 mm long and 1130 wide. The interior of the van is big enough to accommodate its built-in double bed on top of the cabin and a two-seater bench that also transforms into a double bed.
Notably, the two-seater bench that converts to bed is equipped with electro-pneumatic support. Based on the source, it provides lateral support when utilized for seating or when used as flatbed for sleeping.
On the other hand, the kitchenette of the camper follows the old school way of preparing food. It carries double gas burners in addition to its 40-liter fridge and 38-liter water tank. There are foldable tables as well for the convenience of its occupants while enjoying their favorite food or bringing their office work on the road.
The Mercedes Marco Polo was unveiled just this week during the Caravan Salon in Dusseldorf. It has been developed together with Westfalia, a company that was once 49% owned by the former DaimlerChrysler.
The modified Mercedes V-Class is available in three diesel variants ranging from the 200 CDI 134 bhp to the 187 bhp models. The sale of the vehicle is scheduled at the end of July this year in Germany. There are no plans yet to introduce the vehicle in other countries.
Check out the photos of the Mercedes Marco Polo below: