Giancarlo Perlas
June 3, 2014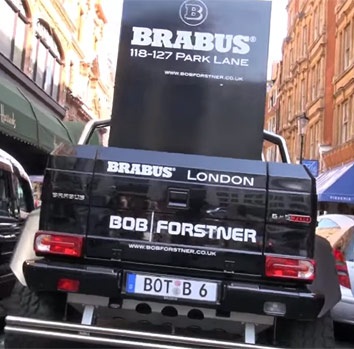 One way of getting your product or service noticed is by having a great advertising medium. By using the monstrous Mercedes G63 6×6 tuned up by Brabus, this is what Bob Forstner dealership is exactly doing in the streets of London.
Two weeks ago, a video of a Brabus-tuned Mercedes G63 6×6 was featured in YouTube. In the video, the six-by-six is seen cruising the busy roads of London while functioning as a mobile billboard for Bob Forstner, a seller of Brabus-tuned automotives. Ironically, the beast of the highway is being filmed by a guy who is merely riding a bicycle.
Check out the Brabus-enhanced Mercedes G63 6×6 as it goes around the block to promote its dealership:
The B63S-700 6×6
The six-wheel vehicle in the video is the rechristened Mercedes G63 by Brabus, which goes by the name B63S-700 6×6.
The Mercedes G63 6×6 already packs quite a power with its 536 hp and 560 lb-ft of torque. However, Brabus has taken its power further by amplifying its 5.5-liter V8 biturbo engine to deliver up to 600 hp and 708 lb-ft of torque.
If you put your volume a bit higher at the end of the clip while the vehicle is speeding off, you can actually hear the actual engine noise of the vehicle, which is a reflection of the power it holds within its hood.
B63S-700 6×6 Pricing
The B63S-700 6×6 costs around £470,000 in UK, which is roughly $787,000 or €579,000. That is already more than seven times the starting price of the current S-Class sedan of the three-pointed star brand based on the MB USA official website.