Ryan Joseph Ramos
June 7, 2014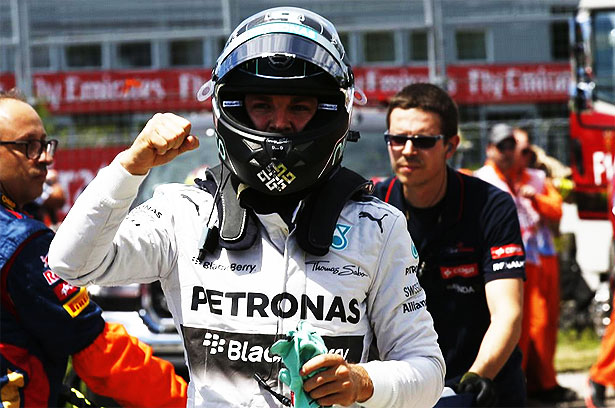 Mercedes AMG Petronas is the clear frontrunner in the drivers standings, and another front-row lockout should go a long way toward padding its 141-point lead over Red Bull Racing some more. Nico Rosberg won pole position over teammate Lewis Hamilton, making it a total of seven pole positions for Mercedes in as many races so far in the 2014 Formula 1 season.
The pole puts the Rosberg-Hamilton head-to-head matchup at 3 wins to 4 in qualifying, although Rosberg is still ahead in the drivers' standings. The German driver has 122 points to Hamilton's 118. The next guy? Ferrari's Fernando Alonso at a distant 61 points. Such has been Mercedes' dominance in this transitional season.
Hamilton was actually the fastest guy on the track for the first two rounds of qualifying, posting lap times of 1:15.750 and 1:15.054 in Q1 and Q2, respectively. However, the Brit just couldn't touch Rosberg's two runs in Q3.
Here are the rest of the top 10 qualifiers in order:
P3 – Sebastian Vettel, Red Bull Racing
P4 – Valtteri Bottas, Williams
P5 – Felipe Massa, Williams
P6 – Daniel Ricciardo, Red Bull Racing
P7 – Fernando Alonso, Ferrari
P8 – Jean-Éric Vergne, Toro Rosso
P9 – Jenson Button, McLaren
P10 – Kimi Räikkönen, Ferrari
Rosberg said he was happy to get the pole position because of the nature of the Circuit Gilles Villeneuve, which doesn't really allow for a lot of overtaking maneuvers. Most observers predict another battle between the Mercedes teammates in the race, and Rosberg agrees. Hamilton likewise acknowledges the difficulty when it comes to overtaking in this track.
We'll see how things go; it's important for Rosberg to get the start of the race right, and if he fends off the early challenge, he'll win this one. Paddy Lowe said the challenges for the team will be getting the brakes right as well as managing the tires and fuel consumption.