Ryan Joseph Ramos
June 8, 2014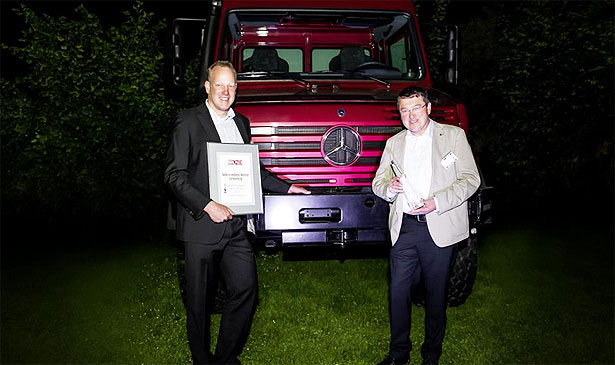 Talk about consistency. For what is now the tenth consecutive year, the Mercedes-Benz Unimog has been hailed by the Off Road specialist magazine as its Cross-country Vehicle of the Year 2014 (special-purpose vehicles category).
The Unimog won on the strength of getting 35.5 percent of the votes cast by readers of the publication. All in all, there were 13 categories featuring 127 off-road-capable vehicles and 58 manufacturers. Around 63,000 readers voted for their favorites in each category.
Off Road magazine has been handing out these awards since 1982.
Mercedes-Benz takes pride in the versatility of the Unimog line, allowing it to take on practically any off-road challenge. From desert dunes to snowy landscapes, there's nothing the Unimog won't take on.
It takes special pride in the new Euro VI version, which sports a redesigned layout. The 230 horsepower  high-torque BlueTec 6 engine is now located in the middle, which leads to a frame drop that goes back further and allows for a lower center of gravity to keep the vehicle stable in many demanding off-road situations.
Taking the top spot in the special-purpose vehicles category is a testament to the German automaker's dedication and commitment to making the Unimog a worthy choice when it comes to off-road requirements. In addition, the newly equipped Euro VI engines complement the off-road capabilities of the vehicles  while being more efficient.