Peter Parcon
June 18, 2014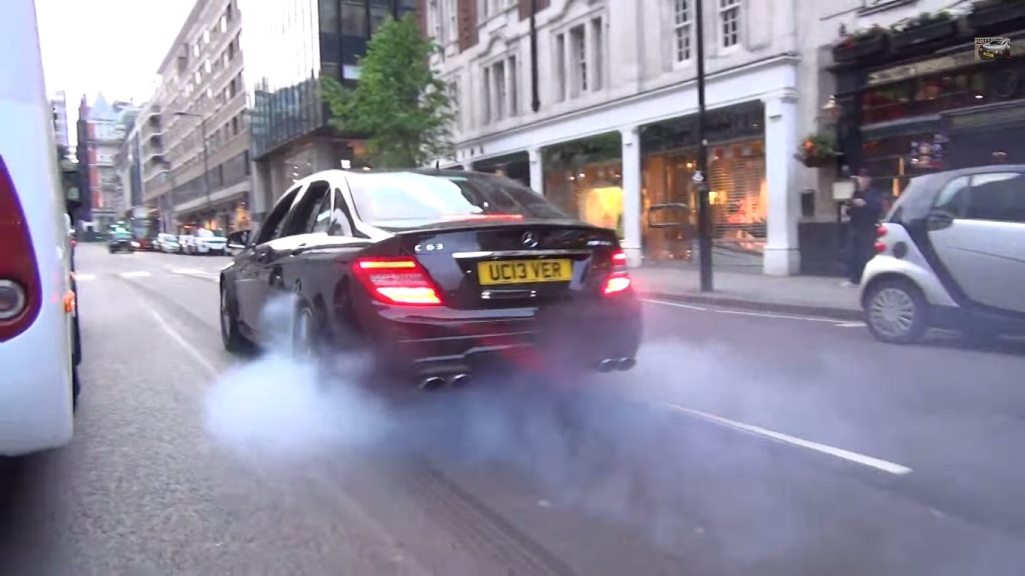 The current model Mercedes-Benz C63 AMG is set to be replaced by the next generation model in a few months from now. Despite this, it still continues to make an impact on anyone who encounters it on the road.
The latest generation of this vehicle will reportedly feature a 4.0-liter twin-turbocharged V8 engine. In comparison, the current model of the C63 AMG comes with a 6.2-liter naturally-aspirated V8 engine. The current model is considered to be among the last non-forced induction AMG vehicles in the market.
As the supercar from the luxury vehicle manufacturer from Germany prepares to say goodbye, a number of owners have started to parade their vehicles on the road. One owner of the current Mercedes-Benz C63 AMG model decided to do this by burning rubber on the streets of London, according to a report from gtspirit.com. The driver performed a number of burnouts right in the middle of the city.
The 6.2-liter V8 engine of the luxury vehicle features a power output of 457 HP along with a torque of 442 lb-ft. This may be enough to burn rubber on the streets of any city around the world.
However, the power output along with its torque can be enhanced when the optional Performance Package is installed into the vehicle. With this Performance Package, the C63 can offer an astonishing 507 HP of power along with 450 lb-ft of torque. When this power is transferred into the rear wheels of the vehicle, it will produce burnouts similar to the ones shown on the video.
The Mercedes-Benz C63 AMG on the video is demonstrating its burnout power, and Mercedes-Benz enthusiasts will not likely complain about the burnout marks and sound it produces while leaving burnout marks on the street.