Peter Parcon
June 14, 2014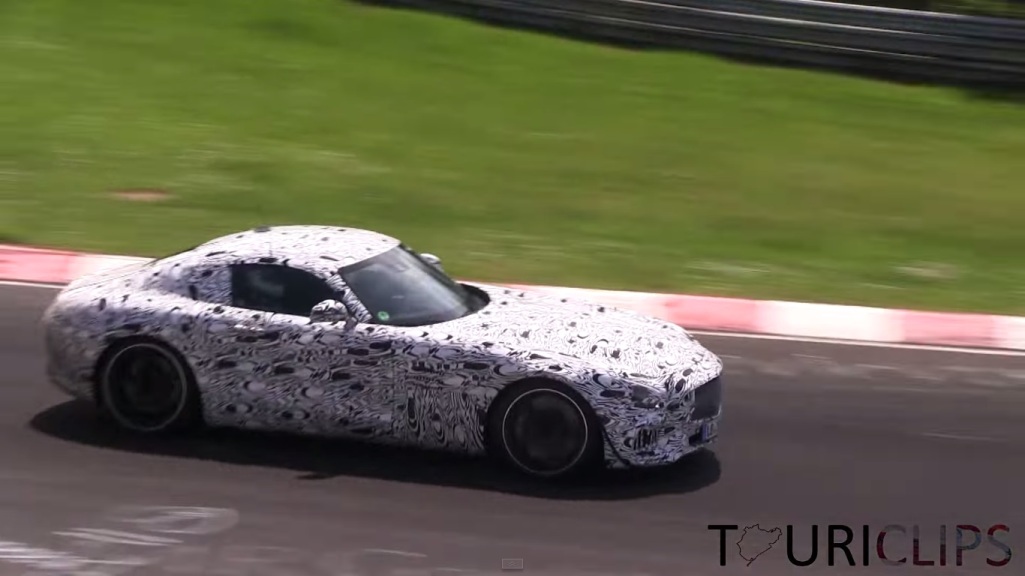 The Mercedes-Benz AMG GT was spotted being tested again at Nurburgring by TouriClips , according to a recent inautonews.com report. The first time it was seen at Nurburgring, it was taken out on a leisurely ride instead of doing fast laps around the track.
This time around, the upcoming supercar from Mercedes-Benz appeared to tear down the track and at some point in the spy video the driver appeared to struggle to stay on the track.
The upcoming sports car, which will serve as the replacement of the SLS AMG, was still covered with a black and white camouflage when it was tested. As a replacement to the SLS AMG, the AMG GT is expected to be faster since it weighs less than the vehicle it will replace. The Mercedes-Benz AMG GT is will also be smaller and offered at a cheaper price than the SLS AMG. Despite the limitation on its power, it is expected to go up against other sports cars like the Porsche 911.
The upcoming sports car of Mercedes-Benz is expected to have some similarities the C-Class, S-Class, and V-Class models of the luxury vehicle manufacturer. It is expected to feature leather interior as well as a tablet-like display. The influence of the SLS AMG is shown on the exterior of the upcoming vehicle as indicated on its extended hood along with other similar features. It may also use the rear lights similar to the one found on the S-Class Coupe.
The sports car will also feature a 4.0-liter twin-turbo V8 engine that is expected to offer 510 HP of power and torque of 479 lb-ft. For the moment, Mercedes-Benz has not released any details on the performance of the upcoming vehicle.
There are also some unconfirmed reports that a Black Series version of the Mercedes-Benz AMG GT may be released by the luxury vehicle manufacturer.