Giancarlo Perlas
June 11, 2014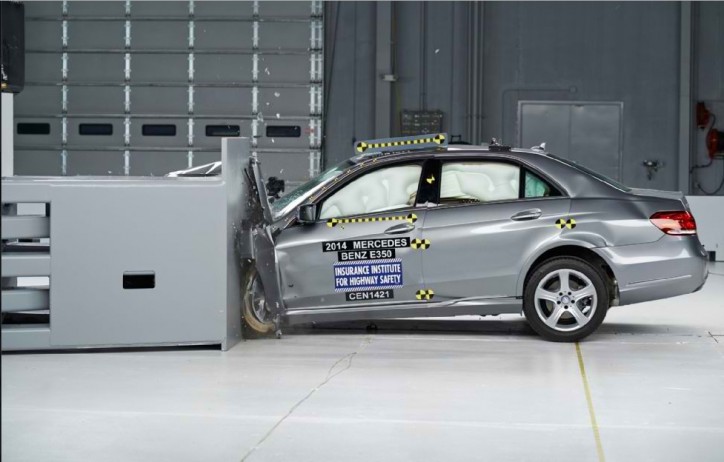 Mercedes-Benz is not only a brand known for providing customers with elegant, comfortable, technologically-advanced and high-performance vehicles, it is also praised for its top-of-the-line standards when it comes to safety.
Recently, the marque's 2014 Mercedes E-Class was tested by the Insurance Institute for Highway Safety. As expected, the results were nothing short of impressive. In fact, the vehicle even gained the Top Safety Pick+ rating.
It should be noted that the 2014 Mercedes E-Class is the second vehicle from the brand to earn such distinction. The first to get the Top Safety Pick+ designation was the M-Class last year.
The IIHS said that only vehicles that carry a 2014 model are considered for the Top Safety Pick+ test. The organization explained the enhancements in the 2014 models enable them to perform better in the small overlap front test.
The 2014 Mercedes E-Class scored "Good" in the crash test. Notably, it garnered the highest possible marks for its capability to offer protection to the head, neck, chest, hip and thigh.
Then, the "+" rating can only be earned if the vehicle's crash prevention system carries a "Basic", "Advanced" or "Superior" rating. In the case of the 2014 Mercedes E-Class, it gained the highest possible mark when equipped with the Driver Assistance Package, which provides advanced collision warning, plus low and high-speed auto-brake features at 12 mph and 25 mph, respectively.
The IIHS stated though that it will be amending its collision avoidance system for 2015 models. To be qualified as a Top Safety Pick+, the said vehicles should at least score an "Advanced" rating.