Peter Parcon
June 22, 2014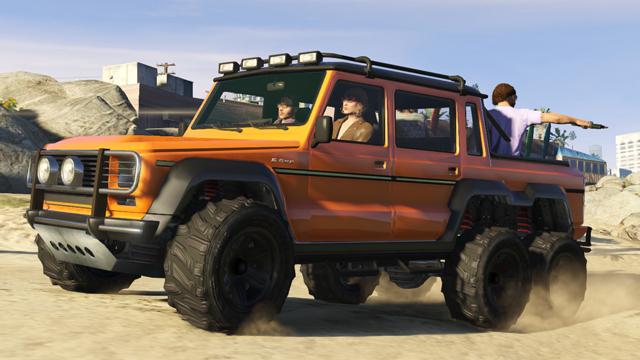 The reputation of the Mercedes-Benz G63 AMG 6×6 has reached new heights as it has been subtly featured on one of the most popular video game in the world, Grand Theft Auto V, according to a report from worldcarfans.com.
The appearance of the monstrous vehicle of Mercedes-Benz comes with the "I'm not a hipster' update for the video game. The GTA version of the G63 AMG 6×6 was given the moniker "Dubsta," and is accessible once players reach level 100. Some industry watchers revealed that the term "Dubsta" may refer to the double wheels at the back or the dubstep music genre.
However, it remains uncertain if the use of the Mercedes-Benz G63 AMG 6×6 has the blessing of Mercedes-Benz since it was given a different name by Rockstar Games and is described as a 3-axel, 6-seater vehicle. In addition to the six-wheeled massive luxury vehicle, other vehicles became available, including the Mercedes-Benz 240 and Smart ForTwo.
Twelve additional jobs were added into the game with the update, which also dealt with a number of glitches that were discovered in the past. The developer of the game announced in the past that the game will become available on the Xbox One, PlayStation 4 and PC by fall.
The Mercedes-Benz G63 AMG 6×6 features a 5.5-liter bi-turbo V8 engine from AMG. It is capable of producing 544HP (400kW) of power along with 758Nm (560 lb-ft) of torque. It also features a 7G-TRONIC SPEEDSHIFT Plus transmission system. The vehicle is 5.87 meters long and 2.10 meters wide. It also features huge 37-inch tires.
The G63 AMG 6×6 was initially launched by Mercedes-Benz in 2013 and around thirty units come out of the assembly line each year. Although the game does not call the vehicle by its real name, industry watchers are hoping that the game will make it consistent with the real Mercedes-Benz G63 AMG 6×6.