Peter Parcon
June 2, 2014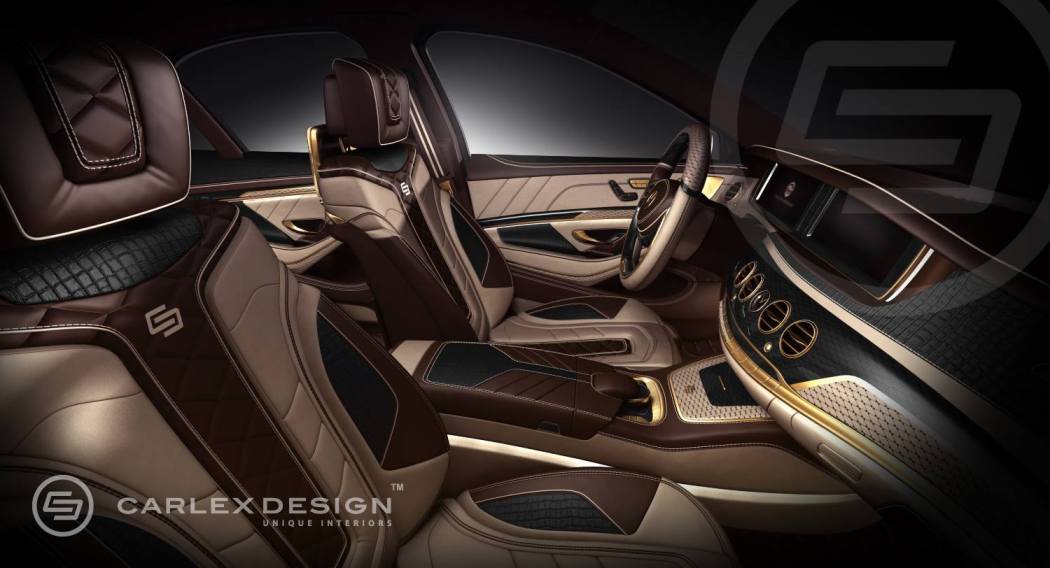 A rendering of the interior of the Mercedes-Benz S-Class was unveiled recently by a Poland-based interior specialist, according to a report from gtspirit.com.
Carlex Design released its official rendering of the cabin of the S-Class showing a unique and aesthetic interior that uses materials normally seen inside a medieval castle. The proposed interior enhanced the appearance of an already-lavish car from the luxury vehicle manufacturer based in Germany
The interior uses genuine 24-karat gold trims along with leather made using crocodile skin. The gold trims are seen on the dashboard as well as the buttons of the steering wheel, air vents, and Mercedes-Benz emblem. The same gold, brown and black theme is also used on the buttons, handles and speaker covers of the vehicle.
The black crocodile leather used by Carlex Design enhances the color scheme of the interior of the Mercedes-Benz S-Class. It blends well with the brown and beige leather that offers a three-tone finish inside the cabin. The stitching also provides an attention-catching contrast in the overall look of the interior of the vehicle.
It is integrated into some parts of the seats, the dashboard, and the rear portion of the vehicle. The same design is also incorporated into the center console of the Mercedes-Benz S-Class. The plain-looking brown leather floor mats are enhanced with special piping along with diamond stitching.
Carlex Design brings a higher level of luxury to the car from the German luxury vehicle manufacturer. Some people may consider the rendering of the interior cabin of the vehicle by Carlex Design too lavish for them due to the overwhelming amount of gold trims and special crocodile leather cover. However, it does increase the value of the Mercedes-Benz S-Class and makes it among the most luxurious vehicle that came out of the assembly line of Mercedes-Benz.