Peter Parcon
June 20, 2014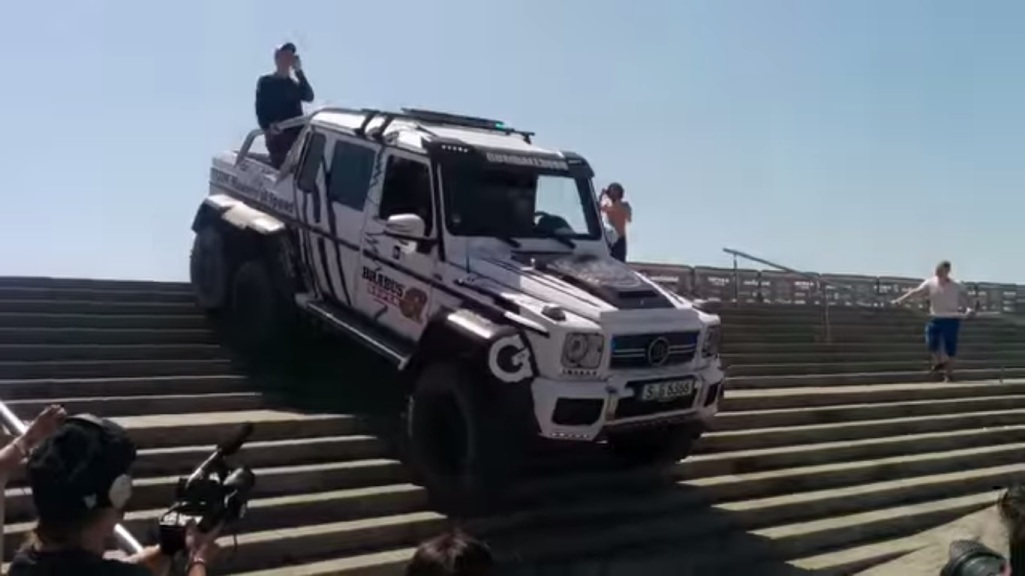 The Mercedes-Benz G63 AMG 6×6 continues to hold many people in awe of the things it can do. After images emerged recently with the monster vehicle washed in the Red Sea, a video was posted recently by Xavi Gomez on YouTube showing the G63 AMG 6×6 conquering two flights of stairs in Barcelona, as reported on inautonews.com.
The conquest of the stairs by the impressive off-roader from the luxury vehicle manufacturer was done during the 2014 Gumball 3000. The event normally attracts a number of expensive and outlandishly-styled vehicles that can easily attract the attention of onlookers. And the Brabus-enhanced G63 AMG 6X6 appeared to attract a good amount of attention.
The Mercedes-Benz G63 AMG 6×6 was the star of the video as numerous curious onlookers recorded the episode. A different video posted by a different user showed a Spanish bike cop apparently telling the driver of the vehicle something.
The G63 AMG 6×6, which is supposedly hand-built at a factory in Austria, was officially launched in 2013. The standard model of the vehicle features a 5.5-liter bi-turbo V8 engine from AMG that offers a power output of 544HP and 758Nm of torque. The engine is combined with a 7G-TRONIC SPEEDSHIFT PLUS automatic transmission system from AMG.
It is reportedly capable of accelerating from 0 to 60 mph within six seconds. It has a total length of 5.87 meters and width of 2.10 meters. It uses 18-inch rims wrapped in 37-inch tires. The tires of the vehicle can be deflated or inflated using a huge compressor and four 20-liter air tanks.
However, these features may have been enhanced by Brabus to increase its power output and torque. With or without the power and torque upgrade, an ordinary flight of stairs in Barcelona, or anywhere else in the world for that matter, may not be a match for the Mercedes-Benz G63 AMG 6×6.