Giancarlo Perlas
June 26, 2014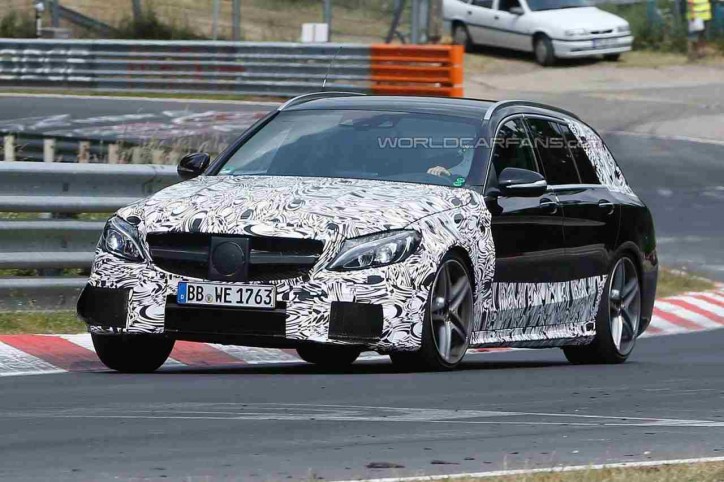 Barely a month since Mercedes-Benz officially unveiled its new C-Class Estate through a video, the company already confirmed that an AMG line will follow. Recently, spies of WorldCarFans have caught the AMG version of the estate while it was being driven in the Nurburgring endurance track. According to the source, the vehicle will carry the C63 moniker.
In the pictures provided by the source, we can see that the Mercedes C63 AMG Estate is still heavily clad in camouflage. So, majority of its styling features are still kept hidden from view. Its single bar grille is apparent though, together with its side skirts and four-tailpipe exhaust system.
In addition, the Mercedes C63 AMG Estate is seen to be fitted with gray titanium alloy five twin-spoke alloy wheels of Daimler's performance division. The report also noted that the estate will be equipped with a high-performance braking system.
The vehicle appeared to be lowered though. As we have earlier reported, its suspension will likely be lowered by 15 mm.
As for the exposed sides of the auto, the same styling lines present in its C-Class sedan counterpart can be found there.
The post speculates that the Mercedes C63 AMG Estate will have the new biturbo 4.0-liter V8 engine under its hood. The engine produces up to 375 kW and 650 Nm of torque. But, the source said that its output may be tuned down to an estimated 331 kW, similar to the C63 AMG sedan.
Mercedes C63 AMG Spy Photos
Check out the spy photos of the upcoming Mercedes C63 AMG, which were provided to us by WCF: