Giancarlo Perlas
May 25, 2014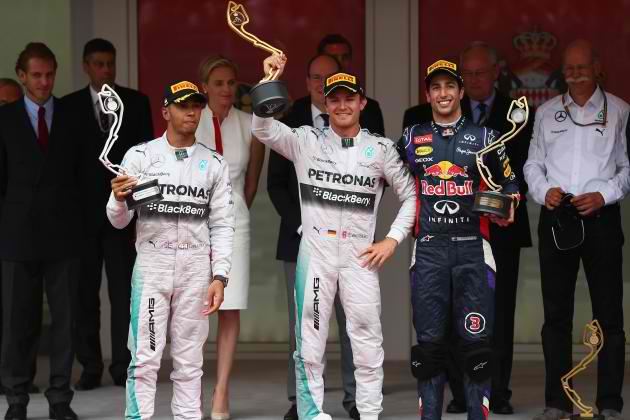 Following a rather controversial qualifying race leading to Monaco Grand Prix, Nico Rosberg reached the checkered flag first this Sunday's race. His victory allowed him to get back his number-one position in the Formula One drivers' standings, which was temporarily taken away by his teammate Lewis Hamilton in Spain.
The German was able to outlast his Briton teammate by 9.2 seconds as he maintained his advantage over his pole position. It should be noted as well that Hamilton has been complaining about his partially impaired vision during the race that was apparently caused by a dirt in his eye.
The two W05 cars were nearly inseparable during the early stages of the race. However, with less than 12 laps to go, Hamilton suddenly dropped off the race while complaining about a dirt in his left eye over his radio. The situation allowed Daniel Ricciardo to get pass Hamilton at lap 72. Luckily, the 2008 World Champ got his second wind, which landed him in second place.
Rosberg crossed the finish line at the 1:49.77.661 mark, earning him 25 points in the process. The win catapulted him back in the number-one ranking against the other drivers in F1. He is currently carrying 122 points in his overall F1 record.
Hamilton, on the other hand, finished 9.2 seconds behind Rosberg. His finish pushed him back to the second overall ranking at 118 points, which is 4 points behind his partner.
Ricciardo of Red Bull was a split-second behind Hamilton, but the gap between him and the Briton in the overall ranking is at 64 points, and with Fernando Alonso sandwiched between them.
So far, Monaco Grand Prix is among the toughest this season. Eight retirements were recorded in the race, which included the reigning champion Sebastian Vettel.