Peter Parcon
May 27, 2014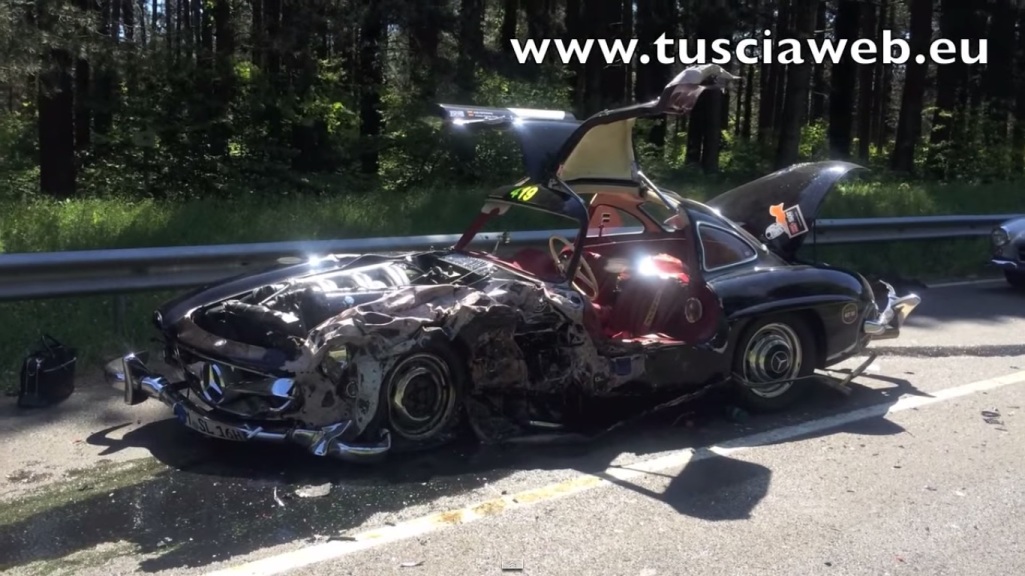 A 1956 Mercedes-Benz 300 SL met an accident during the legendary Mille Miglia of this year, according to a report from autoevolution.com. The Gullwing lost a good number of its original parts following an accident during the Italian vintage car race. The accident also involved a BMW 1 Series, which left the vintage Mercedes-Benz vehicle in virtually destroyed the Gullwing.
The winding road along Viterbo was the site of the accident, which was close to Rome. The cause of the accident has yet to be determined. However, the damage marks found on the two vehicles give indications that at least one of the vehicles encroached on the lane of the other vehicle. But a report from Tsuscia Web revealed that the BMW 1 Series apparently lost control on the road and ran straight into the SL.
The drivers of the Mercedes-Benz 300 SL and the BMW 1 Series suffered fractures and concussions and had to be taken to a hospital. However, it appears that both of them did not suffer any serious injuries due to the accident.
Konstantin and Alexander Sixt were at the helm of the Mercedes-Benz 300 SL. The brothers are heirs and part of the management of the Sixt German vehicle rental company, which indicates that the vehicle may be rebuilt after the accident. However, it did cause a good amount of distress to enthusiasts of the luxury vehicle manufacturer especially vintage car lovers.
Only 1,400 units of the Gullwing were manufactured by the company from 1954 to 1957. It is called the "Gullwing" due to its unique roof-hinged doors. It also has a convertible sibling that is also a favorite among car collectors around the world. The resale value of the Gullwing is more than $1.37 million.
The Mille Miglia was actually prohibited in 1957 following two crashes that resulted to the death of drivers Alfonso de Portago and Edmund Nelson. The accident also resulted to the death of nine spectators.
The race was later revived and involved mainly vintage cars, including the 1956 Mercedes-Benz 300 SL, where standard traffic rules are followed by the drivers.