Peter Parcon
May 26, 2014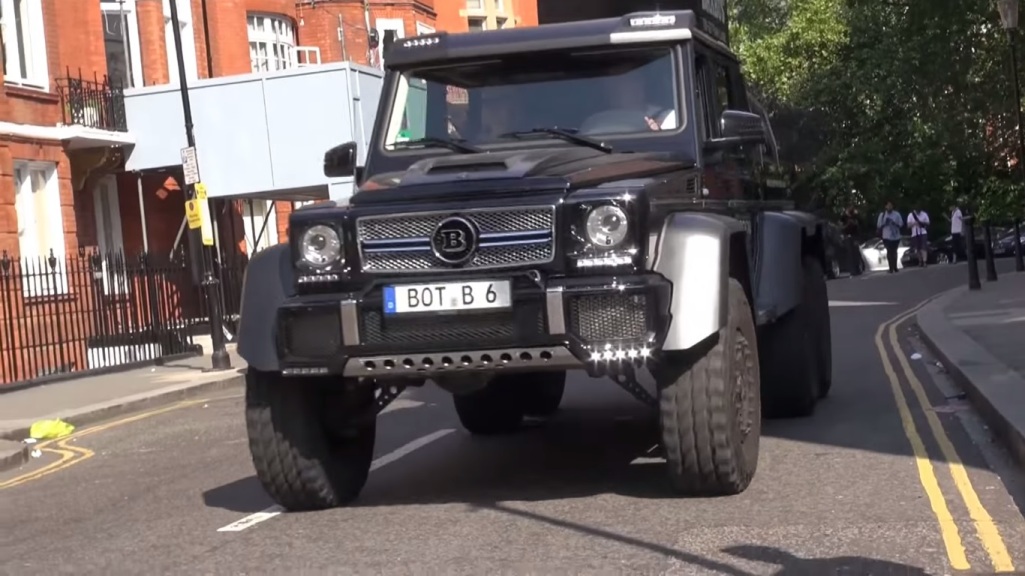 The streets of London will start to become crowded these days as a Mercedes-Benz G63 AMG 6×6 was seen roaming around the city recently, according to a report from carbuzz.com. The modified SUV was spotted being driven around the streets of London.
It is not easy to imagine finding a suitable parking space for this massive beast that can take up as much space as a small truck. Although the extremely large-sized SUV may not be suitable for the streets of London, it is an ingenious way of promoting the newly-opened showroom of Brabus in Park Lane of London.
The new flagship store of Brabus may result to an increase in the number of exceptionally-modified vehicles of the luxury vehicle manufacturer in the city. In fact, it may even lead to the dominance of Mercedes-Benz vehicles in the city that is considered a city of supercars.
A video showed the massive vehicle attempting to squeeze through the narrow streets of London. Cayennes and Range Rovers seem to be like Matchbox cars when compared to the Mercedes-Benz G63 AMG 6×6. The vehicle is not only massive in size since it also has an exceptionally-expensive price tag.
However, it appears that the vehicle shown in the video was already shipped to the Middle East a couple of days after it was filmed.
The standard model of the Mercedes-Benz G63 AMG 6×6 features a 6.5-liter bi-turbo V8 engine with the AMG brand. It offers a total power output of around 544 HP and torque of 560 lb-ft. The massive SUV also features the Speedshift Plus 7g-TRONIC automatic transmission from AMG. The vehicle has a total length of 5.87 meters and width of 2.10 meters. It also weighs around 8,487 lbs or 3,850 kg.
The vehicle that was shown on the video is actually a Mercedes-Benz G63 AMG 6×6 that was modified by Brabus, which offers 700 HP of power.