Ryan Joseph Ramos
May 10, 2014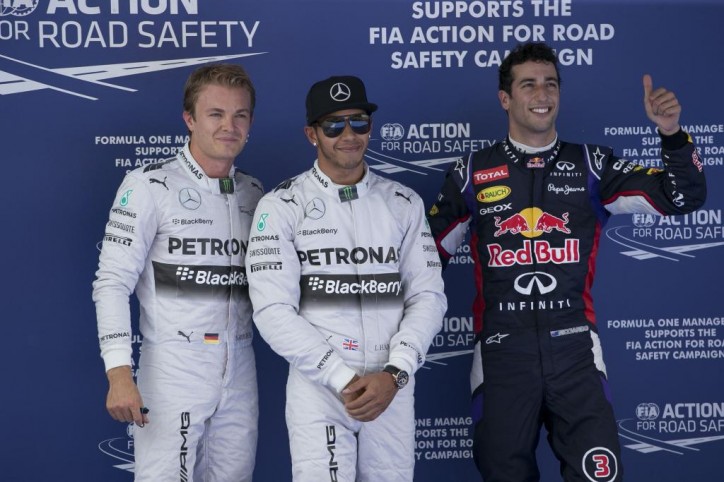 In what is starting to be a repetitive result, the Mercedes AMG Petronas cars once again took the top two spots in a qualifying session. Lewis Hamilton and Nico Rosberg will take the front row when the 2014 Spanish Grand Prix starts in several hours, and it should be yet another exciting battle for the two frontrunners so far this season.
This is Hamilton's fourth pole (out of five races) this season, and we'll see if he can make it his fourth victory as well once the race proper rolls around.
Rosberg actually was the fastest guy at the Circuit de Catalunya for the first two rounds of qualifying, but Hamilton took his teammate toe-to-toe in Q3 and eventually emerged on top after one of the closest qualifying sessions recently. Only 0.168 seconds separated Hamilton's pole position from Rosberg's P2 result, and down the rest of the field, things were close as well.
Here's the rest of the first rows:
P1 – Hamilton
P2 – Rosberg
P3 – Daniel Ricciardo, Red Bull Racing
P4 – Valtteri Bottas, Williams
P5 – Romain Grosjean, Lotus
P6 – Kimi Raikkonen, Ferrari
P7 – Fernando Alonso, Ferrari
P8 – Jenson Button, McLaren
P9 – Felipe Massa, Williams
P10 – Sebastian Vettel, Red Bull Racing
Vettel was assessed a five-place grid penalty for a gearbox change after qualifying. The defending champion had troubles at the start of Q3, stopping right at Turn 3 and causing a 4-minute red flag situation as his RB10 needed to be cleared off the track.
Again, it should be an exciting race once again, with the Mercedes cars safe bets to take some good points–if not another win.