Ryan Joseph Ramos
May 11, 2014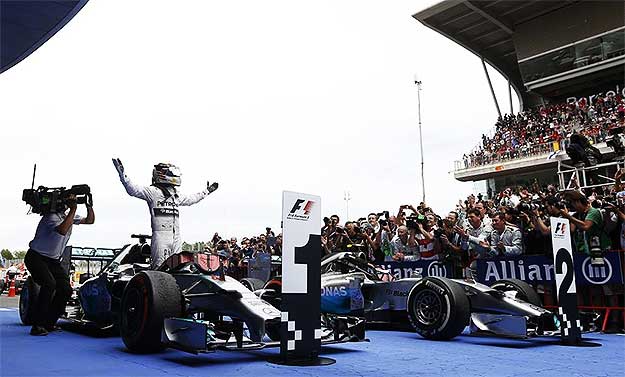 Another race, another Mercedes one-two finish, and the tension is mounting for the Mercedes AMG Petronas F1 teammates.
Lewis Hamilton shook off the challenge from Nico Rosberg and held on to win the 2014 Spanish Grand Prix. As the race wound down to a close, the two teammates were silent right before the post-race interviews. With the win, Hamilton takes over the top spot in the drivers' standings, with 100 points to Rosberg's 97.
Daniel Ricciardo of Red Bull Racing took the final podium spot, while his teammate and 3-time defending champion Sebastian Vettel jumped up from P15 at the start of the race all the way to fourth place by the time the GP ended.
Hamilton and Rosberg battled it out in the final laps, with the German closing in to 0.5 seconds by the last lap, but Hamilton ended up with the victory with a time of 1:41.05.155, which is 0.600 seconds faster than Rosberg's. This might be truly frustrating for Nico, as he did all he could but could not get past Hamilton–and now he falls to second place in the standings.
Rounding out the top 10 finishers at the Spanish GP are the following: Valtteri Bottas (P5), the Ferraris of Kimi Raikkonen and Fernando Alonso (P6 and P7, respectively, and featuring a battle between teammates as well), Romain Grosjean (P8), and more Mercedes power via the Force Indias of Sergio Perez (P9) and Nico Hulkenberg (P10).
Regardless if there's something going on between the team's two drivers, Mercedes AMG Petronas is in a great position from the constructor's perspective. The team is way ahead of the others at this point, and it should continue to build this lead moving forward. The cars have been reliable for the most part, and the drivers have been tremendously consistent in the races.
There was no real challenge in this race apart from the battle the two teammates had, as  the next closest to Rosberg, Ricciardo, was 49 seconds behind the German driver. Hamilton and Rosberg were over a lap faster than seventh-place Raikkonen. How's that for domination?