Peter Parcon
May 28, 2014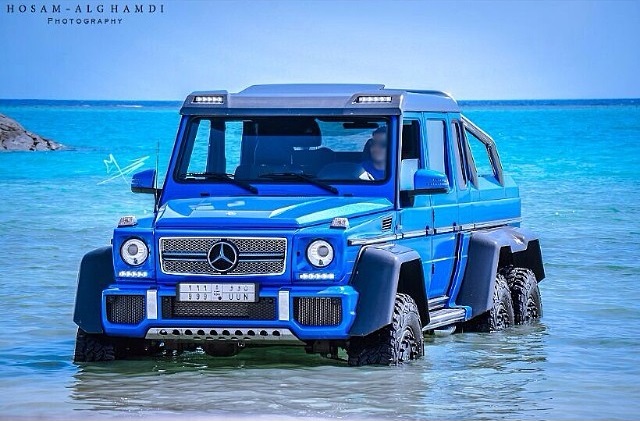 Most of the Mercedes-Benz G63 AMG 6X6 that were seen in the market were mainly colored grey, white or grey. However, it appears that the vehicle looks impressive in a bright shade of blue. This particular six-wheeled SUV that was spotted recently was apparently being cleaned in the Red Sea, according to a report from autoevolution.com.
The vehicle was delivered to its owner who is based on Saudi Arabia. Some industry watchers consider this part of the world as the land of the 6 x 6, which is quite understandable when it comes to this particular behemoth. The G63 AMG 6×6 has a price tag of at least $500,000. Due to this price tag, it is only understandable for the richest individuals in the world to have the capability of purchasing the vehicle. A good number of these wealthy individuals live in Saudi Arabia.
Aside from the Mercedes-Benz G63 AMG 6X6, the owner reportedly also has a blue-colored Range Rover as shown in one of the pictures. The six-wheeled behemoth from Mercedes-Benz towers over the British-made SUV when these two vehicles are placed beside each other.
The military model of the vehicle features a 3.0-liter diesel engine. In comparison, this model available in the market comes with a 5.5-liter bi-turbocharged V8 engine that offers at least 536 HP of power and torque of 560 lb-ft. The engine is also combined with the 7G TRONIC transmission system to drive all of its six wheels.
The vehicle was based on the C320 CDI that was specifically designed for use by the Australian army. It is 5.867 meters long and is 2.111 meters wide. It also has a height of 2.209 meters. When compared to an ordinary car, the G63 AMG is longer by 43.5 inches.
The blue-colored Mercedes-Benz G63 AMG 6×6 bathing in the Red Sea is a sight to see since it offers an attention-grabbing combination of colors, of both the vehicle and the sea.