Giancarlo Perlas
May 1, 2014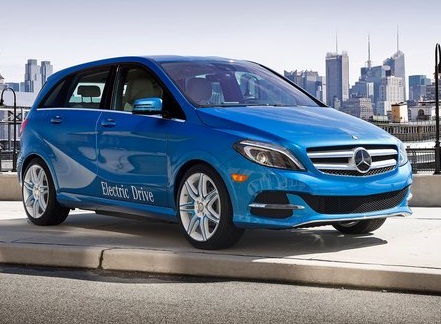 The Mercedes-Benz B-Class Electric Drive unveiled at the 2013 New York Auto Show is already prepping for its debut in the United States of America this summer. It will come with a base price of $41,450.
Specs of the Mercedes-Benz B-Class Electric Drive
The first-ever fully electric-powered car of Mercedes-Benz in the U.S. carries an engine developed by Tesla Motors. It has a battery pack with 28-kilowatt-hour lithium-ion battery. The final output of the production model's motor is 132 kW with 251 lb-ft of torque. That's 75 kW and 23 lb-ft more than what Mercedes quoted during its debut.
The power of the car enables it to sprint from zero to 60 mph in only 7.9 seconds. Then, its maximum speed can go up to 100 mph (electronically limited).
Range of the Mercedes-Benz B-Class Electric Drive
The electric car can go up to approximately 85 miles on its fully-charged battery, which takes 3.5 hours to build on a 240 V level-2 source and 28 to 30 hours on a standard 110 V household charger. However, you can already gain at least 60 miles of range just by charging it for two hours in the 240 V level-2 energy source.
It should be noted though that the main rival of the B-Class Electric Drive, the BMW i3 priced at $42,275, has the capability to go 100 miles on a full charge. Then, the RAV4 EV sold at California for $50,000 has a  103-mile range. Range-conscious customers might pose as a huge setback for this upcoming product from the three-pointed star brand.
Noise of the Mercedes-Benz B-Class Electric Drive
The motor of the vehicle is very quiet. Engadget describes its sound as the noise crickets give out in a quiet evening. That's a great deal for people who prefer a quiet drive but a drawback for those who are looking for a more boastful engine noise.
Technology Present in the Mercedes-Benz B-Class Electric Drive
The key advantage of the Mercedes electric car against its rivals is its technology. It is equipped with the standard technologies present in the normal variants of its brand like the collision prevention, parking assist, brake assist, navigational equipment, plus connectivity to PC, laptop, Pebble, Android and iOS platforms.
Mercedes-Benz B-Class Electric Drive Video
Here's a video shared by Robert Scoble in his YouTube channel, which shows the electric vehicle in action: