Giancarlo Perlas
April 1, 2014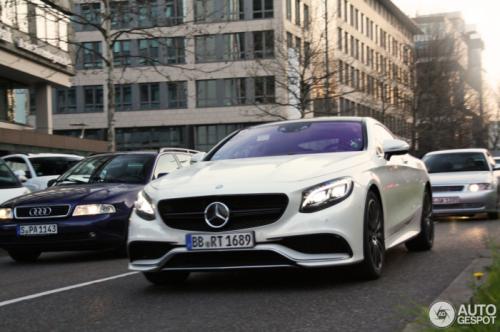 The Mercedes S63 AMG is scheduled to make its public debut in April at the New York Auto Show. However, it was recently spotted making its rounds at the streets of Stuttgart in Germany.
The Mercedes S63 AMG, which was captured by Autogespot on camera, possesses the same white metallic paint seen in the advertisements and brochures being circulated online by the German brand. However, looking at the actual photos of the car on the road makes one realize that it is actually more attractive in real life, especially when it's fine lines and overall dynamic design come into view.
What We Know About The Mercedes S63 AMG So Far
The new addition to the AMG line has a 5.5-liter V8 engine with an output of 577 hp, and 664 lb-ft of torque distributed through its AMG Speedshift 7-speed transmission. Then, it will come in an all-wheel drive in the US.
Despite its estimated 4,400 lbs of frame, the speed of the car can reach up to 186 mph (electronically-limited). All it needs is 3.9 seconds to build up a speed of 60 mph from zero.
The car's weight has been trimmed down using aluminum armor while its performance has been enhanced further by the use of carbon-ceramic brakes, light-alloy AMG wheels and special tires.
The price of the upcoming car is around $150,000 based on several sources online, which is roughly the same as the CL63 Coupe. The estimate does not even include the add-ons.
Photos of the Mercedes S63 AMG on the Streets of Stuttgart
Here are the photos of the car, which were provided by Autogespot: