Ryan Joseph Ramos
March 30, 2014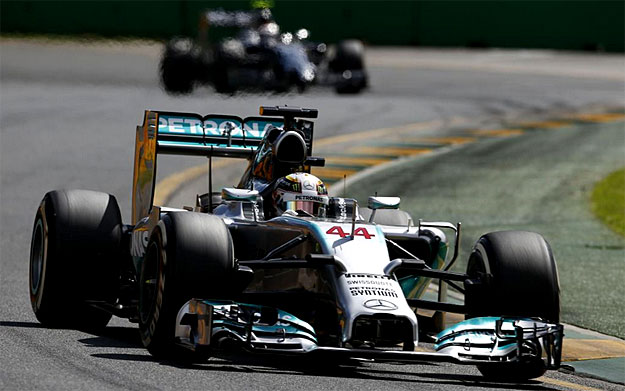 This is how dominant Mercedes AMG Petronas could be this season. In a true show of force, Lewis Hamilton dominated the 2014 Malaysian Grand Prix and Nico Rosberg came in at second place to secure the first one-two finish for the team this season, and at one of their home races at that.
Hamilton was on point the entire race, winning it by a whopping 17.3 seconds ahead of his teammate. He has never won this event in his years as a Formula One driver, so bagging the title at the Sepang International Circuit today was quite an accomplishment for the former world champion. He was also quick to point out the team achievement, noting that he hasn't experienced that many one-two finishes in his career.
In fact, it's also a rare feat for the Mercedes team: this was the team's first one-two since 1955. All that could be about to change, as Mercedes AMG Petronas F1 is the favorite to dominate the 2014 season.
Sebastian Vettel, who was all too accustomed to one-two finishes himself as part of the dominant Red Bull Racing teams of the past few years, settled for third place. The defending champion said he was quite happy with the podium finish, but conceded that the Mercedes cars were simply too quick. He was still able to close in on Rosberg after the second pit stops, but Rosberg was just too quick and held on.
Rosberg was also quick out of the gates, and with Vettel dropping a couple of places to start, the opportunity was there.
Hamilton also quickly dedicated the performance to those affected by the tragedy involving Malaysian Airlines flight MH370.
Here's the complete top 10 right after the race:
Lewis Hamilton (Mercedes)
Nico Rosberg (Mercedes)
Sebastian Vettel (Red Bull Racing)
Fernando Alonso (Ferrari)
Nico Hulkenberg (Force India)
Jenson Button (McLaren-Mercedes)
Felipe Massa (Williams)
Valtteri Bottas (Williams)
Kevin Magnussen (McLaren)
Daniil Kvyat (Scuderia Toro Rosso)
While it was a fairly straightforward race for the Mercedes team, things got a little interesting down the stretch with the Williams team. Massa was ordered to let Bottas past, but refused the team orders. Still, it was a great recovery from the Finnish driver, as he started at P18 on the grid after a three-place grid penalty.