Giancarlo Perlas
March 11, 2014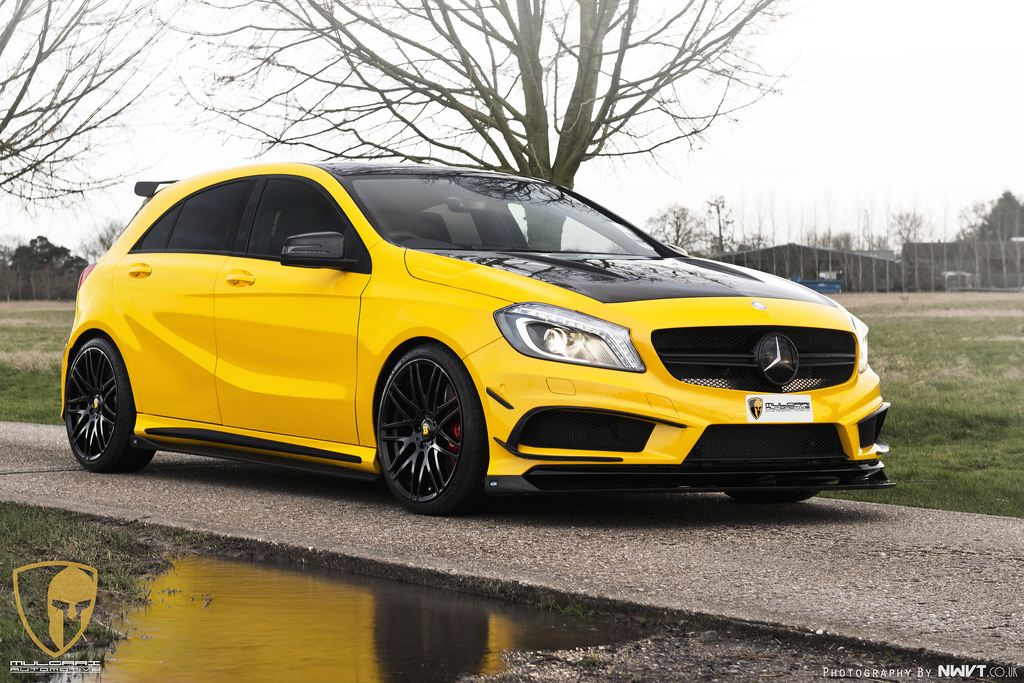 The Mercedes A45 AMG is available in two versions. The first one has base specs while the other is equipped with the Edition 1 package according to GT Spirit.
Basically, the two cars carry the same engine and internal components. The only difference between the two is that the latter offers more downforce due to its enhanced design. Based on the source, the Mercedes A45 AMG Edition 1 features sportier roof spoiler, splitter and diffuser.
Recently RevoZport and Mulgari have tuned a Mercedes A45 AMG Edition 1 upon the request of its unnamed owner to emulate what its Black Series version would look like.
Looking at the photos provided by Mulgari to the source, the customized car features a new carbon fiber front splitter. Then, it is equipped with twin carbon canards coupled with totally blacked out air intakes. The carbon fiber hood of the car has also been combined with the twin-hump design similar to other AMG versions.
Moreover, the side skirts of the Mercedes A45 AMG had some carbon fiber makeover. The back portion of the vehicle has been fitted with a new diffuser too with the same lightweight carbon fiber material. The roof was personalized as well to add to further enhance its aggressive and sporty appeal.
Photos of the Mercedes A45 AMG Project of RevoZport and Mulgari
Check out the photos of the tuned up Mercedes A45 AMG below:
The photos were acquired via GT Spirit but note that the watermarks represent the original sources of the pictures.