Giancarlo Perlas
February 26, 2014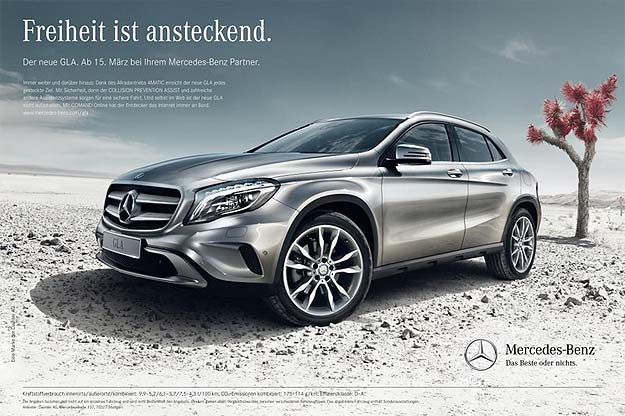 One of the best features of the Mercedes GLA is its smaller frame compared to other SUV's in the past. Before, when you think of a sport utility vehicle (SUV), you immediately get the picture that it is bound to be hulking in frame. But over the years, Porsche, Audi and BMW have reinvented the way that SUVs should look like. Mercedes-Benz followed by introducing the GLK which instantly became a success by attracting new range of customers into its brand. Mercedes is looking to maintain its momentum by offering the GLA-Class.
Mercedes GLA Storage Capacity
Despite the smaller frame of the new Mercedes GLA, it should be noted that it is still capable of holding a lot of luggage in its interior. Although the carrying capacity of the Mercedes GLA depends on the kind of equipment or baggage put to it, Mercedes-Benz Passion says that it can hold 421 liters of compressed luggage in the compartment behind its rear passenger seats. Then, if you fold up the rear backrest, you can load up to 1,235 liters of luggage up to its roof.
Diagram Showing the Different Loading Configurations of the Mercedes GLA 
Check out the illustrations below provided by Mercedes-Benz Passion for a thorough look at the storage capacity of the Mercedes GLA at different loading configurations. These will give you an idea how much luggage you can put on the GLA if you are planning to purchase and drive one into your next outdoor adventure or road trip.