Ryan Joseph Ramos
February 22, 2014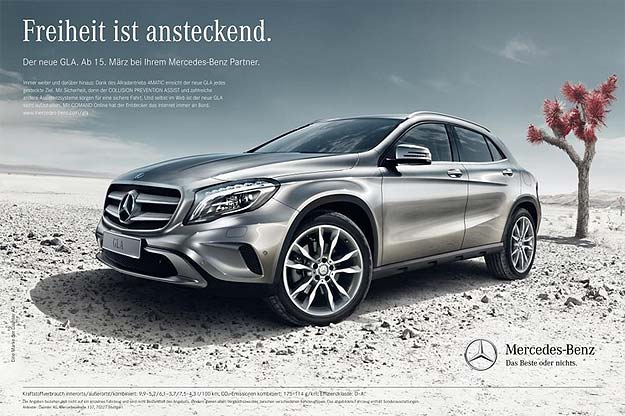 With an emphasis on mobility, Mercedes-Benz is launching the new GLA with a campaign in Germany that's under the banner "always restless"—something that highlights the boldness and flexibility of the compact SUV line.
According to Mercedes-Benz Cars Head of Marketing Communications Dr Jens Thiemer, the new GLA is one "in which to take on all the hurdles of everyday life" and as such, the campaign will feature the vehicle in a variety of situations and settings, from city driving to travels on deserts and gravel.
One of the main components of the digital campaign features an interactive web special called "the forgotten road trip" in which the GLA goes on a road trip across the desert. The main character goes for a ride on the GLA as he searches for lost memories.
The interactive execution also allows visitors to request brochures, see the highlights of this new model, and even configure a GLA they can call their own. The trailer is at http://mb4.me/GLA_trailer_en/ while the web special is found on www.mercedes-benz.com/gla.
Of course, a marketing campaign for a vehicle model won't be complete without traditional media aspects. Print advertisements, which will be found across different high-circulation outlets sometime later in February, will also be made for the new GLA, while a couple of 30-second TV spots round out the campaign.
The two TV spots can be watched online as well. "The last time" is all about a "spontaneous voyage of discovery" across different off-road and urban landscapes. "Home", on the other hand, is all about showing that there is more that the world can offer once we get out of our comfort zones.
The campaign was made by creative agency Jung von Matt. Check out more images below.