Ryan Joseph Ramos
January 11, 2014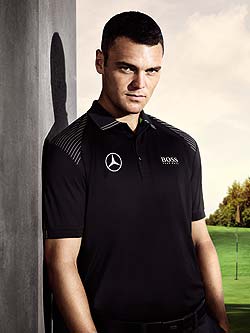 The latest Mercedes-Benz brand ambassador is top German golfer Martin Kaymer. The winner of the 2010 PGA Championship will first be sporting the three-pronged star emblem on his gear in next week's tournament in Abu Dhabi and will also be tasked to promote the Mercedes Trophy, the exclusive premium amateur golf tourney series.
Kaymer adds to the list of the automaker's international brand ambassors, which already includes two-time Masters winner Bernhard Langer and defending Masters titlist Adam Scott, as well as national brand ambassador for Germany, Marcel Siem.
Since turning pro in 2005, the Düsseldorf-born Kaymer has tallied 19 professional wins, including two in the PGA Tour and 10 in the European Tour. He was also instrumental in Europe's come-from-behind victory at the 2012 Ryder Cup.
Kaymer is also a former world number one, overtaking Lee Westwood in Ferbruary 2011 after finishing second at the 2011 WGC-Accenture Match Play Championship and making him only the second German to be world no. 1, a spot he held for 8 weeks before Westwood reclaimed it.
The Mercedes Trophy is an annual showcase pitting over 60,000 golfers from some 60 countries, with the series' World Final being held in automaker's home of Stuttgart sometime in September. In 2014, the tournament will be celebrating its 25th anniversary.
"Golf is truly a global game and I know that Mercedes is committed to promoting it even further," said Kaymer, adding that he is especially keen on promoting the special year of the Mercedes Trophy.
Mercedes-Benz has a lot of involvement in golf. Apart from spearheading the Mercedes Trophy series, the automaker is also a long-running international partner of the Masters in Augusta. It recently inked an agreement that elevates it to Global Sponsor. It has a partnership with The Open Championship since 2011. It is also the 'Official Vehicle' for the PGA Championship, Senior PGA Championship, and for Ryder Cups held in the US.