Giancarlo Perlas
January 23, 2014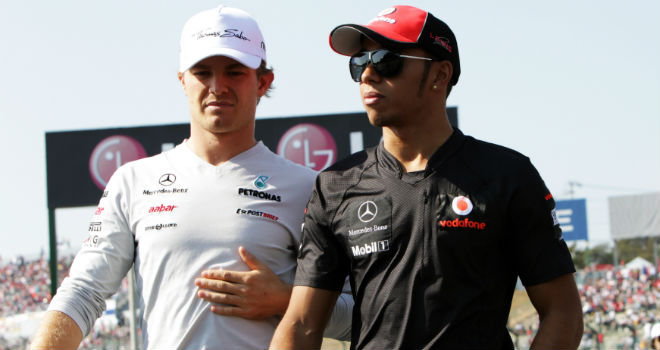 Lewis Hamilton and Nico Rosberg are probably the best team line-up that Formula 1 has to offer. To prove that, the tandem were very instrumental in putting Mercedes-Benz in the second place of the overall team rankings of F1.
Despite sharing the same team and being considered as actually good friends, people can't help but compare the two. The question about who is the better driver gets thrown out a lot by pundits and a subject of debate to many fans.
While it is already given that Hamilton bested Rosberg in terms of points in the 2013 F1 Drivers' Rankings, their difference is only mere 18 points (Hamilton scored 189 points while Rosberg got 171 points) which many find very insignificant because of the very close gap.
An article from Bleacher Report gives out the factors that let the one driver stand out from the other. Here are the strong points mentioned by the report:
Hamilton is a Better Performer in the Qualifying
In terms of one lap pace, Mercedes is virtually unbeatable said the post. After the Belgian GP, Hamilton has beaten Rosberg 8 to 3. But it should be noted that the German has outclassed the Briton at the end of the season by beating him 5 to 3 in the qualifying battle.
One of Hamilton's strength is in the qualifying so it came as a surprise that his teammate has nearly beaten him to it.
Rosberg is More Consistent in Terms of Performance
After being forced to retire in two of his initial four races, which enabled Hamilton to get into the podium in Malaysia GP and China GP, Rosberg came into a rebound by cutting the gap to just seven points after Silverstone by capping strong victories in Monaco and Britain.
He would end up with another retirement though in Hungary following an engine failure after Felipe Massa struck his car while Hamilton bagged the first place in the race.
Hamilton was also able to get a podium in Belgium which would be his last in the season.
However, it should be recalled that in the last seven races of the season, Rosberg outperformed Hamilton 5 to 2 which included podiums in India and Abu Dhabi.
Rosberg has a Cooler Head During Pressure
Hamilton is no doubt the more outspoken between the two Mercedes drivers. However, he was also known to lose his cool on separate occasions.
In Italy, he delivered a post-match comment wherein he said that he "drove like an idiot". Another documented instance was in the US when he spat some angry words to the rest of the Mercedes technical crew out of irritation due to their frequent warnings about his tyres. He reportedly barked at them to "let him focus" but later he complained that he was not given enough feedback when things did not go his way during the event.
So far, there were no recounted events wherein Rosberg got into a mix-up with the technical crew said the post. Even if he failed to finish in three occasions, he always let his rationality run its course and never blamed anyone about his unfortunate races.
Overall
In the points battle, Hamilton has definitely beaten Rosberg. However, I partly agree to the claims of the report.
The report has certainly mentioned strong points that are worth pondering about. So, overall, Rosberg may certainly well be a more rounded and more consistent driver in the team.
How about you? Do you agree to this? Let us know your thoughts by posting them in our comments section.