Muamer Hodzic
December 11, 2013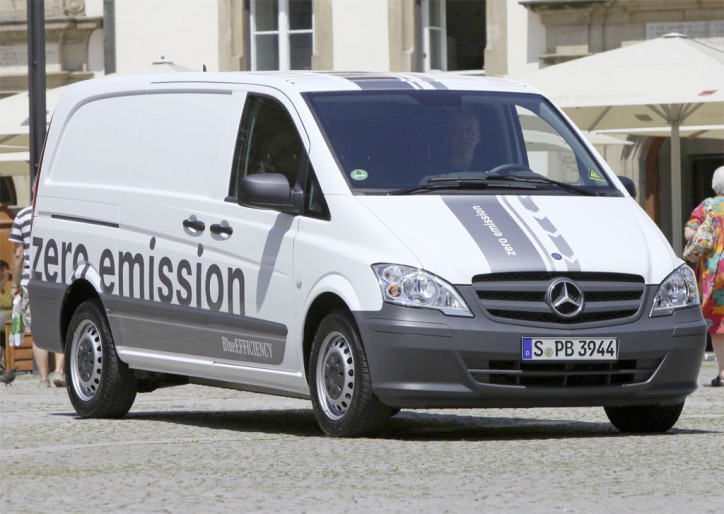 Ever since the development of the first petrol engined car, Mercedes have been a manufacturer who love to be involved with new technology and developments. In recent years they have moved away from producing ever faster and larger engines towards more ecologically aware drive and power systems. Even though this company has an established reputation for producing top class models for the luxury car market, they certainly haven't shied away from creating a number of vehicles and technological advancements in the field of green motoring.
2012 World Green Car
In 2012, the Mercedes S250 CDI BlueEFFICIENCY was named the World Green Car beating the Ford Focus Electric and the Peugeot 3008 hybrid to the prize. This is the second time Mercedes have won this competition, with their E320 Bluetec seeing success in 2007. The competition is held on an annual basis by Bridgestone and the judging panel look at how a car's fuel consumption, emissions and power drive systems all work together to make it more environmentally friendly. The 250 CDI has the cleanest diesel engine in the world producing 149g/km of CO2, with a fuel consumption of 41 mpg, making it the most fuel efficient luxury car in the world.
Vito E-Cell
 The Vito E-Cell is Mercedes' first ever entry into the electric van market. This vehicle has a purely electric drive unit producing a maximum output of 70kW, which is powered by heavy duty lithium ion batteries. Its initial production in 2010 run saw 100 units produced by the Vitoria factory, which rose to 2000 units in 2011. The car is capable of maximum operating range of 130km, making it the perfect vehicle for urban deliveries in a busy city centre where emissions are likely to be affecting the quality of the air. As we move towards more sustainable methods of energy production, such as wind farms, solar panels and geothermal heat pumps, the green credentials of such a vehicle cannot be overstated.
B200 Natural Gas
Natural gas powered cars produce considerably less greenhouse gases than then petrol and diesel powered cousins. In 2012 Mercedes released their natural gas powered B200 – a five-seater hatchback with a fuel tank range of around 300 miles. This car will save owners around 50% of the regular fuel costs associated with running a hatchback and is said to produce around 16% less emissions than a comparably sized car. Although natural gas is currently produced as a fossil fuel, there have been considerable in-roads into the field of biogas in recent years, where methane is produced by micro-organisms that feed on rotting waste in an oxygen free environment. If this type of production takes off, then natural gas powered cars could have a truly sustainable fuel source.
Car-to-X Technology
Mercedes plan to introduce their own proprietary Car-to-X (C2X) technology by the end of 2013. This system can be used to notify drivers of potential dangers on the road in real time, which should greatly reduce the chances of their involvement in an accident. It uses a smart-phone and a digital drive that allows cars to function as both transmitters and receivers of information, creating a network that can give an accurate picture of a road network at any given time. Reducing the amount of traffic accidents means fewer write-offs and damaged cars, all of which contribute to the massive carbon footprint created by our vehicles. The system can also alert drivers to dangerous weather conditions, animals on the road and even cars travelling in the wrong direction.
S-Class INTELLIGENT DRIVE Systems
In late summer 2013, Mercedes demonstrated their new S INTELLIGENT DRIVE car on a 100km stretch of road from Mannheim to Pforzheim. Interestingly this is exactly the same journey made by company founder Bertha Benz when she set off on the first ever long distance drive over a century ago. The car is completely autonomous, using a special route pilot system that allows it to negotiate its way through even fairly dense road traffic. On its test journey it had to deal with a number of tricky situations including traffic lights, trams and roundabouts. This proves that the system can work in real life situations, and can help vehicles maintain a steady speed on the road, which is proven to increase their fuel efficiency, cutting down on emissions.
Hybrid Engines
A number of green, hybrid engined vehicles have been created by Mercedes. These cars use a combination of diesel and electrical power, reducing the amount of greenhouse gas emissions produced by their engines. The latest in this line is the Mercedes S500, which was release at the prestigious Frankfurt Motor Show earlier this year. This luxury car offers four different drive modes, including an electric power only mode that will allow drivers to go on short trips of up to 18 miles without having to use any diesel fuel. The car will only emit 69g/km of CO2 and has a fuel efficiency of 94.2 mpg. According to Mercedes chief, Dieter Zetsche, this car shows that environmentally friendly motoring is more than just a marketing tool for the company.
The Future
If you look across the entire range of vehicles produced by Mercedes it seems that this manufacturer are producing green cars, vans and SUVs for every different class and vehicle type. The advancements they've made in just the last decade have started to truly bring green motoring into the 21st century and if they continue to innovate at a similar rate then we will no doubt be seeing the end of the diesel and petrol engined Mercedes cars by around 2025, with no drop in comfort, class and power. Of course, there will still be those out there who love their classic Mercedes cars, but we believe that there are many more iconic vehicles to come in the future, which will represent the same engineering excellence this brand has built its reputation on for years.
This guest post was written by BreakerLink – the used Mercedes parts location specialists.