Peter Parcon
December 22, 2013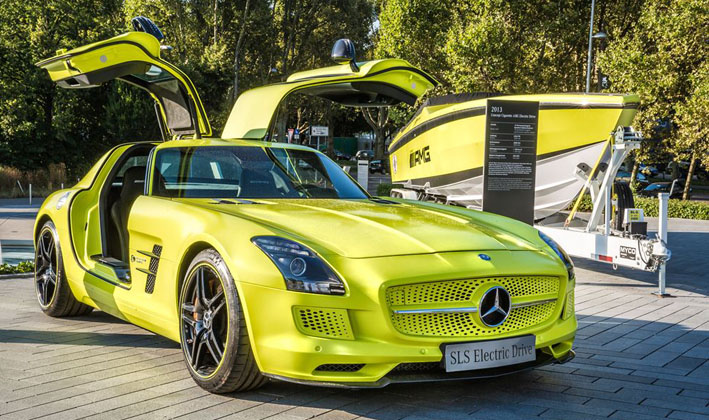 The Cigarette AMG Electric Drive is the product of the collaboration between Cigarette racing and Mercedes-Benz AMG, according to a report from mercedes-benz.co.uk. The combined expertise of the two companies resulted to the development of the most impressive electric-powered watercraft in the world. The engine of the thirty-eight-foot long boat can produce up to 3,000 Nm of torque and 2,220 HP of power. This allows the powerboat to produce enough electric power that allows it to reach speeds up to 160 km/h.
The design incorporates a number of components of the Mercedes-Benz SLS AMG Coupe Electric Drive. Among the components are the high-performance drives that feature twelve electric motors, which is the trademark of the fastest electric production series vehicles in the world.
Mercedes AMG High Performance Powertrains had a hand in the development of the lithium-ion battery of the Cigarette AMG Electric Drive. The high-voltage battery incorporates the latest emission-free technology used in Formula 1 racing. Full charging takes seven hours to finish with an option to charge within three hours with the availability of chargers on board.
The powerboat features a low center of gravity along with optimum weight distribution, which is featured on a Mercedes-Benz AMG super sports car. The dynamic design of the powerboat is emphasized by its neon paint job and its racing background is underscored by the AMG logos along its side. The powerboat also features the trademark black sports seats of Cigarette Racing that are well-blended with the carbon components within the cockpit.
A number of unique made-to-order boats were the products of the collaboration between Cigarette Racing of Miami and Mercedes-Benz AMG. This collaboration between the two companies initially started in 2007.
Passion for performance brings the two companies together as they have a similar reputation of developing among the best racing machines in the world, whether on land or on water. This is well-demonstrated with the Cigarette AMG Electric Drive.