Ryan Joseph Ramos
November 24, 2013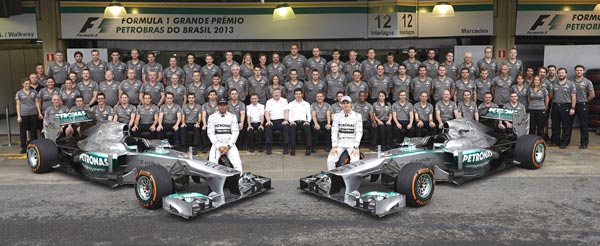 While the results of the season were already a foregone conclusion, teams not named Red Bull were still fighting for something up until the last race. For the Mercedes AMG Petronas F1 team, it was all about finishing strong and clinching second place in the constructors' standings.
Nico Rosberg finished fifth at the 2013 Brazilian Grand Prix, while teammate Lewis Hamilton withstood a drive-through penalty to still finish within the championship points at ninth.
Overall, Mercedes improved a lot from 2012, thanks in part to the acquisition of Hamilton and also a renewed focus on setups and performance. The 360 championship points of the team was a marked improvement, as there are 218 more points compared to last season.
Rosberg said that bagging second meant "a huge step forward" for the team, and it will definitely go a long way toward the team's push  next season, where a new engine spec should make things more interesting for the entire field.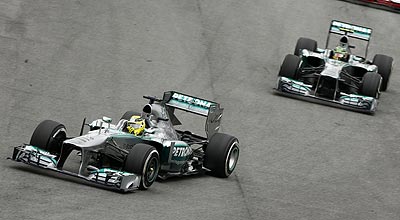 Hamilton acknowledged that he had a tough race, with a podium well within reach until his collision with Valtteri Bottas. Hamilton knocked out the Williams, and he himself limped back to the pits and had to serve the penalty. After the race, though, it was all about the team, and Hamilton said he was delighted to have been part of the achievement in 2013.
Incidentally, Sebastian Vettel took home a ninth-straight F1 race win, which was his 13th overall of the season. Mark Webber capped his F1 career with a second-place finish in the race, making it a Red Bull one-two, while Fernando Alonso of Ferrari took the final podium spot.
With the finish, Webber moved ahead of Hamilton for third place in the drivers' standings. Idle Kimi Raikkonen, who missed Lotus's last two GPs after announcing his transfer to Ferrari, remained at fifth ahead of Nico Rosberg.
That's a wrap for the 2013 F1 season, and we're looking forward to an exciting new one in 2014. It's been a great year for Mercedes and for F1 in general, so we hope next year brings more excitement and fun for all. Rest assured we'll keep on covering the Mercedes side of things.