Peter Parcon
November 18, 2013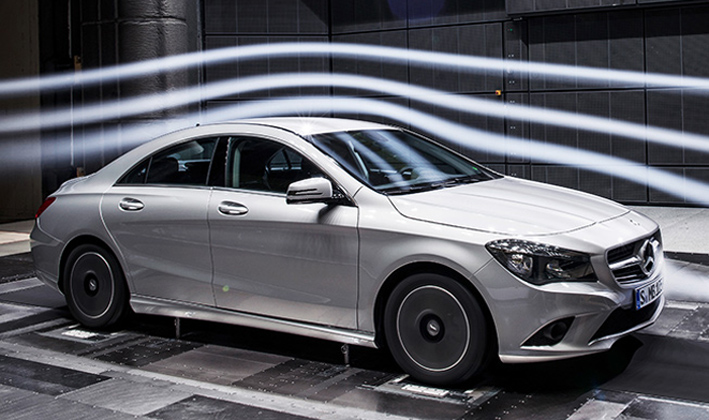 The latest Mercedes-Benz CLA combines ground-breaking aerodynamics with a revolutionary design. This was revealed through the official website of Mercedes-Benz UK. The vehicle sets the standard among all car models of the luxury vehicle manufacturer with its notable aerodynamic design. In addition, the vehicle also serves the benchmark among all series production vehicle models around the world.
A number of aerodynamic optimization measures resulted to the incomparable airflow of the Mercedes-Benz CLA. Among these measures are the modified front apron, specially-designed aero-alloy wheels, serrated wheel spoilers and its adjustable radiator shutter. The serrated wheel spoilers are positioned along the front as well as the rear wheel arches of the vehicle.
The excellent airflow also played a major factor in the enhanced fuel efficiency of the vehicle.
Air flow under the body of the vehicle is also enhanced by its considerable underbody paneling. Airflow is also channeled at the back of the vehicle by the dynamic rear end that features spoiler lips along the lid of the trunk.
The head of Aerodynamics of the company, Dr. Teddy Woll, revealed the collaboration between the designers and engineers of Mercedes Benz to produce the outstanding design of the vehicle. This collaboration starts in the initial development process and makes sure all components of the vehicle offers results that are carefully taken into consideration, computed and further optimized.
Dr. Woll said the team works to establish the proportions on the 1:4 models of the vehicle. A wind tunnel is also utilized in enhancing the aerodynamics of the vehicle. It is essential for the team to work closely with each other since it typically involves measurements down to the millimeter level. The Mercedes-Benz CLA shows no inconsistency in terms of efficient aerodynamics and optimal design.