Ryan Joseph Ramos
November 3, 2013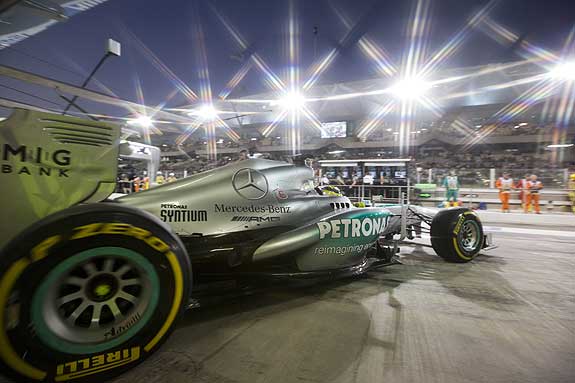 Nico Rosberg secured a second-straight podium finish this past weekend, finishing in third place at the 2013 Abu Dhabi Grand Prix behind yet another Red Bull one-two. Fellow Mercedes F1 driver Lewis Hamilton settled for seventh place.
More importantly, the Mercedes AMG Petronas F1 team managed to score more points than their red-clad rivals Ferrari, padding their lead in the battle for second place in the constructors' standings. Mercedes outscored Ferrari 21 points to 14, which puts the totals at 334 and 323, respectively, with two races remaining in the season.
In what is increasingly looking like a three-race victory lap for the recently crowned four-time world champion Sebastian Vettel, the young German incidentally also claimed his seventh-straight race win. He's nigh-untouchable at this point, especially considering how his teammate Mark Webber managed to snag pole position in qualifying.
The Mercedes cars were strong in qualifying as well, with Rosberg starting at P3 and Hamilton right behind him at P4.
Hamilton, however, struggled after his second stint out on the track because he lagged behind one of the Sauber cars. He could not overtake Esteban Gutierrez and lost quite a bit of time because of this, so he had to settle for seventh place in what he described as a 'tough' outing for him.
"My race just didn't quite come together and I'm not really sure why as I gave it my all out there," said the Brit. He added that he, as well as the team, needs to look into why he can't maximize the car's performance.
Despite the Red Bulls' dominance, Rosberg sees the glass half-full. He said the bright side was that they were a bit closer to at least one of the Red Bull cars this time around, and hopes that the last two races will allow them to challenge the constuctors champion even more.