Ryan Joseph Ramos
November 17, 2013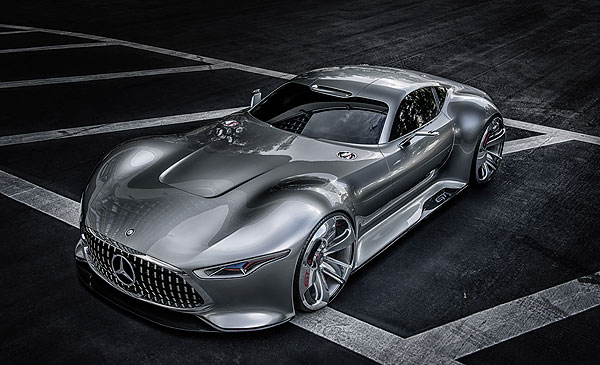 Gran Turismo 6, the latest iteration in the highly acclaimed racing simulation game for the Sony PlayStation 3 console, will feature a fresh concept car called the Mercedes-Benz AMG Vision Gran Turismo. The German automaker will bring digital to reality when it presents a 1:1 scale model of the vehicle at the November 19 opening of its fancy new Research & Development Center, located in Sunnyvale, California.
The concept car was designed with three things in mind: 'extreme proportions', 'sensual contours', and a 'high-tech blend'. This is all to evoke an emotional quality, and there's no doubt that this design is quite curvaceous and sexy even when only looking at the press photos.
The curvy, muscular body is offset by angled headlamps and pronounced features like the wide bonnet and other details. Exterior ambient lighting comes courtesy of glowing contour lines on the car's lower portion, and the variable LED radiator grille also adds a superb accent to the flowing form of the body. The latter is seen as sort of an evolution for the new A-Class's own diamond grille.
Of course, this concept car would be nothing without sports car specs. The Mercedes-Benz AMG Vision Gran Turismo is equipped with an AMG V8 biturbo engine that outs 585 horsepower and 800 Nm max torque. Lightweight construction gets an unrivaled 2.4kg per hp. The two-seater's interior is also a wonder to behold, with F1 cockpit-inspired features.
'Vision Gran Turismo'  is an overarching 'festival' for the racing game, part of the celebration of its 15th anniversary. The Mercedes-Benz AMG vehicle isn't the only concept car designed for this theme; other brands and companies are also involved, with the likes of Nike and Jordan Brand as well as coachbuilder and designer Zagato providing their designs as well.
Gran Turismo 6, developed by Polyphony Digital and released through Sony Computer Entertainment, is slated for a December 5 release in Japan and Asia, with a worldwide release the following day.
The game comes with a whopping 1,200 different cars (the 1971 lunar rover is also in the game!), including over 20 Mercedes-Benz models.  The SLS AMG GT3, E63 AMG, and A45 AMG are scheduled to make their virtual debut in GT6.
There are 33 playable tracks (featuring 71 layouts), including Brands Hatch and the Goodwood Festival of Speed hill climb course.
Check out more images of the Mercedes-Benz AMG Vision Gran Turismo below: