Ryan Joseph Ramos
November 8, 2013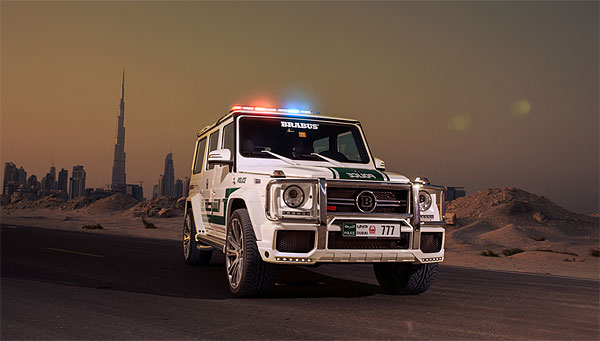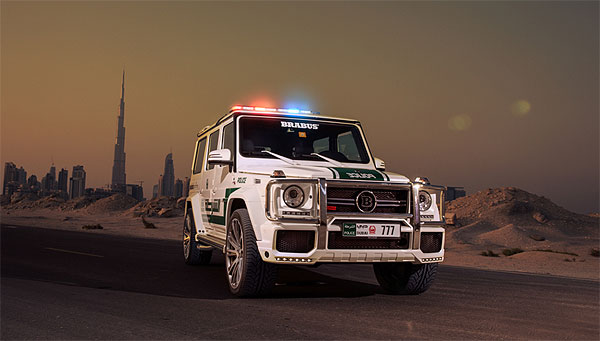 Dubai is known for some of the most remarkable architectural marvels of our times, reflecting the vast wealth of the country from its oil-rich days to its transition to a multifaceted metropolis thriving in tourism and other industries. Here's another indicator of being able to afford some nice things: Dubai Police is getting its very own BRABUS 700 Widestar that's based on the Mercedes G 63 AMG.
The high-performance off-road vehicle—officially labelled the BRABUS B63-S 700 Widestar—is capable of 700HP, powered by a 5.5L V8 biturbo engine. Top speed is pegged at 240 kph, and the green and white clad police unit is capable of a 0-100kph time of 4.9 seconds.
The tuned Mercedes-Benz SUV joins some pretty amazing company in the Dubai Police car lineup. The force already enjoys the services of a Bugatti Veyron, Lamborghini Aventador, Ferrari FF, a couple of Audi R8s, and an Aston Martin One-77. This is one police force you don't want to be caught in a chase against; not only do they have speed, they also have style.
People in Dubai should expect the new souped-up vehicle to patrol the city streets shortly after being displayed starting on November 5 and lasts through November 9 at the Dubai World Trade Center, as part of the Dubai International Motor Show.
The custom-made G 63 AMG was designed under the TUNE IT! SAFE! concept that's geared toward safe and responsible tuning, a concept that has been in Germany since 2005. It is hoped that, apart from its likely awe-inspiring city patrols, this unit can also serve as a good example of legally and safely tuned automobiles, acting like an ambassador for awareness of the TUNE IT! SAFE! initiative.