Ryan Joseph Ramos
October 17, 2013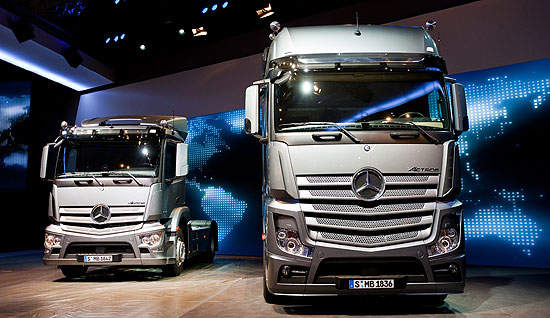 Here's another award for the Mercedes-Benz Actros long-distance truck. This time, the accolade is the inaugural 'Truck of the Decade' award in Ireland, an award given by the Fleet Transport magazine.
The award was based on votes through a variety of sources: Fleet Transport readers, Twitter and Facebook users, and attendees at the Mondello Truck Show. Voters chose from among the winners of the Irish 'Truck of the Year' award over the last decade, and the stiff competition faced by Mercedes-Benz included bets from Volvo, MAN, and Scania.
Perhaps a big factor that helped the Actros win is the fact that it won the publication's Truck of the Year award thrice already.
The Actros, however, would not be the lone winner during the awards night last Friday. The Antos was also hailed as 'best distribution truck 2014', while best innovation for trucks was given to Daimler FleetBoard GmbH thanks to the acclaimed telematics-based services.
The cab's aerodynamic design, the truck's driving characteristics, as well as comfort and handling are all part of the winning package, as stated by Fleet Transport magazine publisher Jarlath Sweeney during the awards ceremony.
Mercedes-Benz Ireland sales chief Fergus Conheady was on hand when the Actros took the spotlight once again. He expressed his gratitude toward all who voted for the brand and the truck, saying it only motivates Mercedes-Benz to keep on producing top offerings.
The German automaker continues to push for innovation not only in consumer vehicles, but in trucks and buses as well. When it comes to new Actros orders, more than half are already for Euro VI compliant variants, and there's still a year to go before that emissions standard comes into effect.
The Actros forms part of the dynamic Mercedes-Benz trucks portfolio. It is a specialist model that fits the bill for the international transport sector, complemented by the Antos and the Arocs.