Ryan Joseph Ramos
October 9, 2013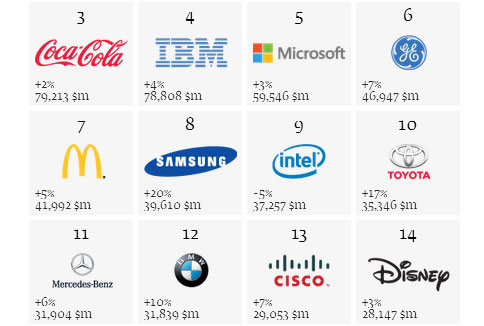 In the 2013 edition of the Best Global Brands list compiled by Interbrand, the Omnicom-owned global branding consultancy firm, Mercedes-Benz finished 11th overall. While the German automaker was not able to crack the top 10, that position still makes it the top luxury automotive brand on the list and the top European brand as well.
This marks another year in which the Mercedes-Benz brand value has risen, a trend that started back in 2009. The 2013 value, pegged at $31.904 billion, represents an increase of around 6 percent compared with last year's figure.
Mercedes-Benz Cars' Director of Brand Communication, Dr Jens Thiemer, expressed pride at the achievement, and pointed out that it was able to replicate its success from last year.
With initiatives like the Mercedes-Benz 2020 strategy, it shouldn't be impossible for the automaker to aim for the top 10 in next year's study. Considering German rival BMW is right on its heels (#12, 31.839 billion value), there's definitely some extra incentive to step up performance across the board.
Apple, maker of iPhones, iPads, and Macs, leapfrogged Coca-Cola (#3) to take the top spot. Tech rival and search giant Google took the runner-up spot. IBM, Microsoft, GE, McDonald's, Samsung, Intel, and Toyota round out the top 10, in that order.
In order to be considered for the Best Global Brands list, entities must operate in at least three continents and cover a considerable number of emerging markets. The companies' revenues are also assessed, with at least 30 percent coming from outside a company's home country and at most 50 percent hailing from a single continent.
The Best Global Brands annual report was published by Interbrand through BusinessWeek up until 2009, before Interbrand took the responsibility for itself.