Ryan Joseph Ramos
October 6, 2013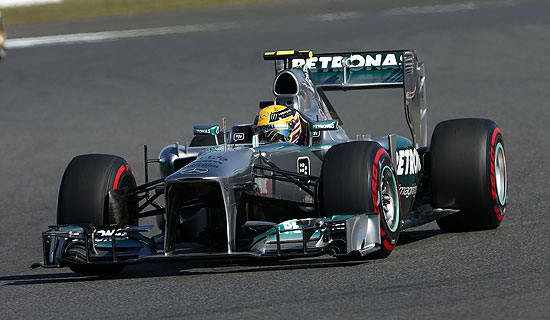 It was another solid outing for the Mercedes F1 team. Solid, but most definitely not stellar. At the 2013 Korean Grand Prix, Lewis Hamilton finished in fifth place, with teammate Nico Rosberg a couple of spots behind him in P7.
The finish secures a bunch more important points for the team, yet it underscores the inability of the team to consistently get superb performance out of the car. At least, it hasn't been enough to really grab some more wins.
Tire wear has reared its ugly head, with Hamilton suffering from it on his right front one, right in his second stint after a stop. Rosberg, on the other hand, had to take an early second stop because of nose and front wing structural issues.
Hamilton lamented the bad breaks the team got in this race, citing the mishaps as well as the lack of pace particularly on straights. He said it simply was not a good race for the team, and we would have to agree strongly on that.
With only five Grands Prix left in the 2013 season, Mercedes' hopes have all but faded. After that promising burst before the mid-season break, the team has truly struggled to build on its success. The Red Bulls have been very consistent, not to mention dominant, while the Lotus team has also been far more consistent on the field.
Kimi Raikkonen, who finished second to Sebastian Vettel, managed to leapfrog Hamilton in the drivers' championship race. The fourth-place Hamilton (161 points) now trails the Lotus driver by 6 points. Vettel has 272 points, while Fernando Alonso is at second place with 195 points.
The Mercedes AMG Petronas F1 team still trails Ferrari for second place in the constructors' championship, but only a single point separates the two teams heading into the next race. Red Bull is a distant first place with 402 points, bolstered by four straight GP victories (eight overall).