Ryan Joseph Ramos
August 1, 2013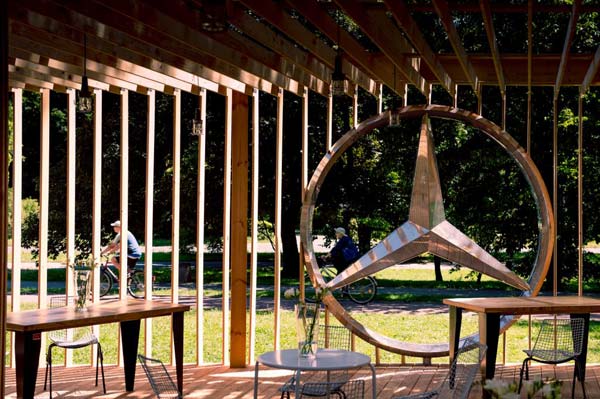 As part of the Mercedes-Benz 2020 customer experience strategy, the German automaker puts a focus on temporary brand experience setups in conjunction with the brick-and-mortar shops and online channels. One such temporary location is the Mercedes-Benz pavilion, which just opened up last July 20th in Warsaw's Powisle district.
The first ten days of the temporary structure saw around 3,000 visitors, and there were 80 test drives during that period. The Mercedes-Benz pavilion will be around until October.
The location of the pavilion was carefully chosen because of its nearness to the city centre as well as having parks around, making it quite a popular spot for people meeting up. The timing is perfect, too, because foot traffic is even better during the summer.
Aside from showcasing a range of cars, not the least of which is its new CLA-Class, the facility also sports numerous amenities that cater to people who just want to enjoy the place. There's a café with a 150 sq m patio, an exhibition area for art viewings, concerts, and the like, and a children's section.
Mercedes-Benz cars aren't the only attraction at the pavilion. The smart e-bike also makes an appearance, in a section that's dedicated solely to two-wheeled mobility. Other activities include a fan meet for G-Class enthusiasts and some design workshops.
The pavilion is the first Mercedes-Benz facility to use mobile sales consultants. They allow for vehicle configuration support and customer advice at the home or at work, and they are also there to help prospective buyers set up test drives.
Mercedes-Benz operates the pavilion in tandem with the automaker's Warsaw dealership.