Ryan Joseph Ramos
August 26, 2013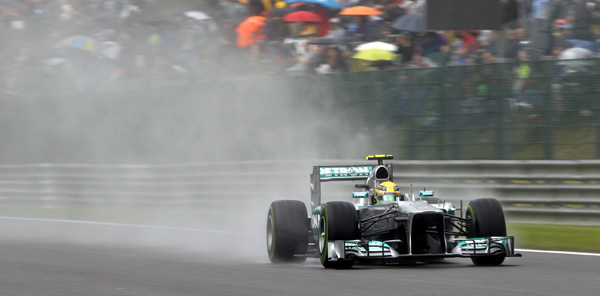 We knew heading into the Belgian Grand Prix this past weekend that being able to score another win would be pivotal for the Mercedes team's campaign. Newcomer Lewis Hamilton had just scored his first race win, and being able to win another one would definitely boost the team's chances to get back in the hunt for the title. Alas, the team was not fated to win the first race after the summer break.
Hamilton, starting from pole position, had to settle for third place, behind Sebastian Vettel and Fernando Alonso. Incidentally, Vettel sits atop the drivers' standings with eight races to go, and Alonso is in second place. Sure, the podium finish catapulted Hamilton to third place, but it was only because erstwhile third-placer Kimi Raikkonen retired in Belgium.
It was an important team effort for the Mercedes team, though, considering Nico Rosberg also finished in fourth place. Still, even the most die-hard Silver Arrows supporters are no doubt questioning this team's ability to go toe-to-toe with the likes of Red Bull and Ferrari. That's a bigger concern in terms of the individual drivers, as the picture looks brighter when you go to the constructors' standings. Mercedes trails only Red Bull, 235 points to 312. Ferrari isn't far behind, though, at 218 points.
Hamilton had to win Belgium. If he had, then he would have driven home the point that Mercedes is truly a force to be reckoned with and that his win at the Hungaroring was no fluke. Was he only able to win because other cars held back Vettel's pace? At this point, that's how it looks like. Given that Hamilton is the team's best bet, it doesn't look good for the team. For sure, it's in the back of their heads that they can't compete with the three-time champion's race pace. If they have to battle Red Bull and Ferrari down the wire, chances are they'll lose.
That's why, when we look back on this 2013 F1 season, we'll see losing Belgium—even though the team did score some nice points—as one of the most important losses. There's still time, but the window is closing and the team needs to be in win-now mode.
The problem is, the Red Bulls just aren't letting them get a good groove.