Ryan Joseph Ramos
July 6, 2013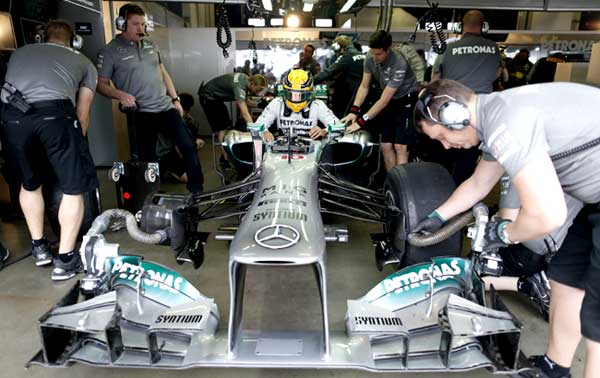 The conditions were great, and the Mercedes AMG Petronas F1 team showed great form in the first two practice sessions for the 2013 German Grand Prix. Nico Rosberg placed second in the two sessions, while Lewis Hamilton topped the first practice and settled for P8 in the afternoon after some tweaks.
"It's a great track and a lot of fun to drive here with my current Silver Arrow," said Rosberg. "It was an interesting day for us as we had to adapt to the new tires. They are different and require a different set-up, so today was a good opportunity to learn something."
Rosberg added that it was important to get a firm understanding of the new tires faster than the other teams. He added that people are anticipating a warmer track come race day, so the conditions and setups could change some more on Sunday.
Teams ran the modified medium-compound Pirelli tires for the morning runs, while the afternoon was all about the soft tires. Strict adherence to the tires' particulars were observed after the various incidents in the previous race.
Hamilton said that Friday practice was 'reasonable' for the Mercedes team, obviously because his morning session was superior.
"The car felt a little off balance during P2 so we'll have a look into that overnight and probably backtrack on some of those changes for tomorrow," said Hamilton. "I'm sure we will be back on form for P3."